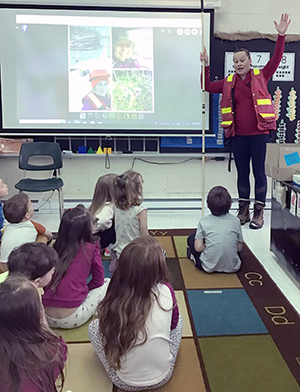 After having some chefs and a dental hygienist come in to visit the Sir James Dunn Kindergarten class, as part of their community helpers unit, they recently had a technician from the MNRF and a scientist come in a tell them all about their professions.
Shannon Murphy, from the MNRF, showed us how diverse and interesting her job is.  She measures young trees, counts moose from a helicopter and plants young fish in the lakes.  She uses a variety of tools to assist her while out in the forest and to keep her safe.  Many little ones were intrigued and would one day like to work out in the wilderness.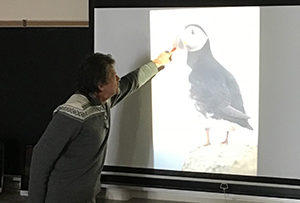 Doctor Poldmaa, our principal, used to work as a scientist who studied birds.  He showed us photos of a Puffin study that he did with three other scientists in northern Labrador.  Bird scientists patiently watch birds for hours and days, tracking what they eat and where they go.
Dr. Poldmaa explained how he would tickle a bird's belly to get them to stand up and allow him to collect, measure and weigh an egg before returning it.  These birds have sharp beaks and we even got to see the scar on his arm that a bird gifted him when he didn't tickle her belly just right.
Stay tuned for our Emergency Services visitors article in a few weeks.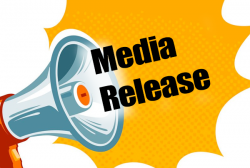 Latest posts by This Media Release
(see all)