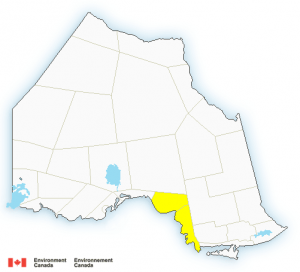 Snow squall watch in effect for:
Wawa – Pukaskwa Park
White River – Dubreuilville
Agawa – Lake Superior Park
Brief, intense snowfall is expected to develop. Under the snow squall, visibilities will be significantly reduced due to the heavy snow.
Frontal Snow Squall watch in effect.
Conditions are expected to become favourable for a brief but intense snow squall to develop late Wednesday morning into Wednesday afternoon as a cold front passes.
Local snowfall amounts up to 10 to 15 cm are possible.
Snow squalls cause weather conditions to vary considerably; changes from clear skies to heavy snow within just a few kilometres are common. Visibility may be suddenly reduced at times in heavy snow.
Snow squall watches are issued when conditions are favourable for the formation of bands of snow that could produce intense accumulating snow or near zero visibilities.
This is a media release by the organization. If you would like to send Wawa-news.com a media release to be published, send it to Brenda Grundt, Editor/Publisher,
[email protected]
Latest posts by This Media Release (see all)