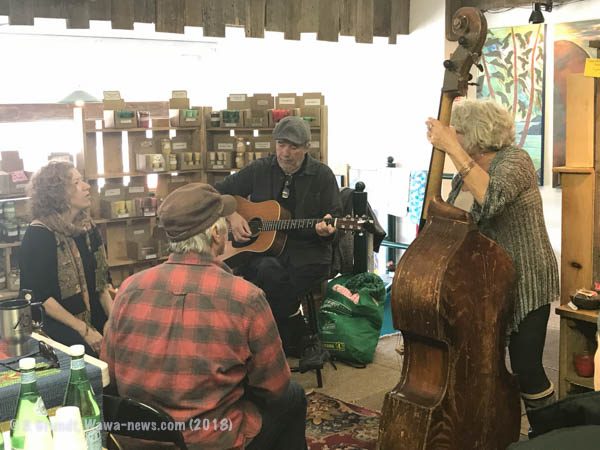 After 19+ years on Broadway, The Red Canoe is closed the doors. Don and Jude Charbonneau have been selling their candles (remember Wood 'n Wax>). soaps, music, art and collectibles locals and visitors to the town. Friends and shoppers came in for one last gathering in the gallery for snacks, music, socializing and of course, as Don quipped  "a little early Christmas shopping".  He extended the invitation "if you play, bring an instrument and jam; if you don't; stay and visit, and listen in".
It ended up being a great day at the shop, musicians did drop in and some lovely music was heard. The treats were delicious – a great lunch tunes and treats! All too soon though, other things called, and then the day was done. For those who missed it, Don and Jude will have their Christmas shop in the Soo starting November 20th.
Next year though, Don has plans. He wants to continue painting, and teaching others how to paint. He plans to do this at his house on Government, and perhaps even hold the odd house concert. It sounds like he has some interesting plans underway!
Latest posts by Brenda Grundt (see all)