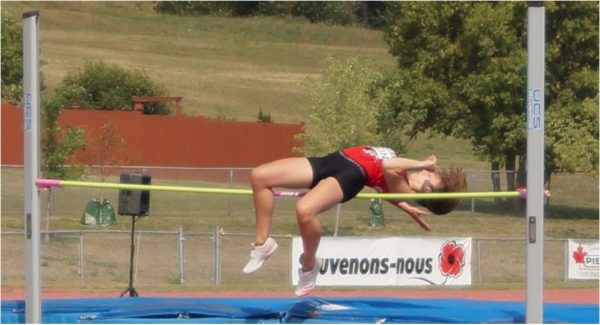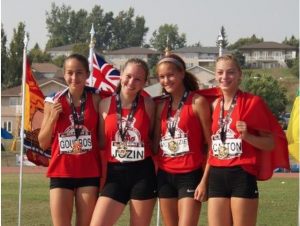 Annika Jozin proudly represented Wawa and local Branch 429 in the Royal Canadian Legion National Youth Track and Field 2018 Championships held August 10th – 12th in Brandon, Manitoba.
She had just finished competing at the Ontario Summer Games August 2nd – 4th in London, Ontario where she tied for second place in the midget category, jumping 157 cm in the high jump event. Annika travelled with the team from Toronto to Brandon.
Annika qualified for the Nationals during the provincial competition in St. Catharines, July 14th -16th. She was one of three chosen from District H, Sudbury. Annika competed in the Under 16 division. The forty competitors on Team Ontario wore red and white tracksuits and jerseys. She participated in the 100m sprint, 4×100 relay, running long jump and high jump. The relay team had Annika start and they lead the race to win the gold medal. The girls set a new team Ontario record of 48.24 seconds.
The high jump was the last event she participated in and this was her main event. There were fourteen girls in the competition and the temperature was 37 Celsius with a warm headwind. Annika started jumping at 145 and breezed through the heights until 161 cm. She was able to clear 164 cm, which was a new personal best. She placed fifth overall. She is very proud of her efforts in this event as well as all of the other competitions she participated in this summer. She is grateful for all of the support from the community and to Chris Timm, of Laurel Creek Track and Field Club, for his time and effort coaching her during the 2018 season.
The 42nd RCL National Championship grew from Legionnaires' support and promotion of youth sports as a healthy activity to help children whose fathers or mothers were serving abroad, or had served in the Armed Forces. The Legion later developed local, provincial and national youth athletic programs, which now culminate in the championship games. This year there were over 900 competitors. The provincial teams included BC/Yukon, Alberta/NWT, Saskatchewan, Manitoba/NWO, Ontario, Quebec, New Brunswick, Nova Scotia/Nunavut, PEI and Newfoundland/Labrador. There were also many athletes from various clubs and teams across Canada. The Legion's Dominion Command sponsors over 300 competitors each year, with the support of branches and provincial and territorial commands from across the country. Many Legion alumni have gone on to compete at the international level including as part of the Commonwealth, Pan Am and Olympic games.
The theme of this year's championship is Armistice 100, which marks one hundred years since the treaty to end the First World War.  "We hope the heroism of the veterans of that war will help inspire all the athletes as they compete," says Dave Flannigan, Dominion President. "These games are about strength and resilience, but also, fun and comradeship – the opportunity to compete like this would not have been possible without the sacrifices of our veterans."
SOURCE The Royal Canadian Legion Dominion Command
This is a media release by the organization. If you would like to send Wawa-news.com a media release to be published, send it to Brenda Grundt, Editor/Publisher,
[email protected]
Latest posts by This Media Release (see all)