May 16, 2018 @ 08:05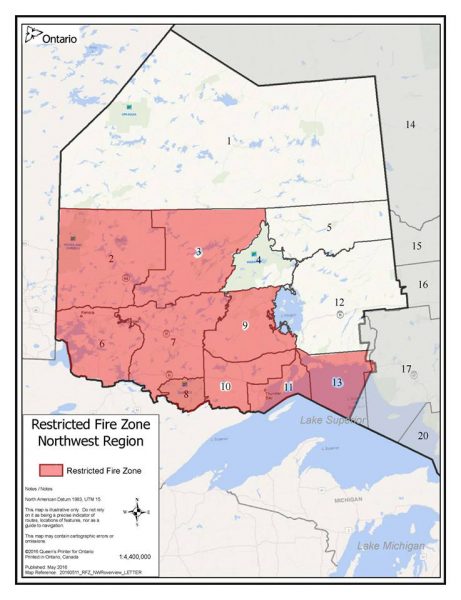 The Ontario Ministry of Natural Resources and Forestry has issued a Restricted Fire Zone notice for the Northwest Region of Ontario. A Restricted Fire Zone is in effect when outdoor conditions are extremely dry, and/or when the number of fires occurring has stretched firefighting resources to capacity
A Restricted Fire Zone is a temporary measure for extreme situations. As soon as outdoor conditions permit, the restrictions are lifted.
By law, you cannot have an outdoor fire in a Restricted Fire Zone. This includes all grass and debris burning and campfires, even when using an outdoor fire gate, fireplace or fire pit.
If you need heat for cooking and warmth, and you're in a Restricted Fire Zone, you can only use certain equipment (e.g., portable gas or propane stove) if you follow certain rules.
There are exemptions to the ban on outdoor fires in a Restricted Fire Zone. If strict criteria are met, campfires and charcoal barbeques may be allowed in organized campgrounds or parks.
You can find a complete set of provincial rules related to outdoor fires in Restricted Fire Zones in: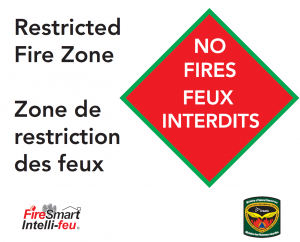 Once a Restricted Fire Zone has been declared, it is illegal to set a fire for any purpose within the affected area.
Failure to comply could results in:
a fine up to $1,000
3 months in jail
financial responsibility for any costs incurred in fighting a forest fire
Closer to home (Wawa), Residents of Bruce Mines are advised that a ban on all open air burning has been imposed by Fire Chief Randy Morin, effective immediately (May 15, 2018).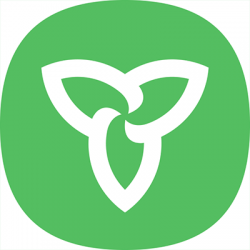 The Ministry of Natural Resources and Forestry (MNRF) is a government ministry of the Canadian province of Ontario that is responsible for Ontario's provincial parks, forests, fisheries, wildlife, mineral aggregates and the Crown lands and waters that make up 87 per cent of the province. Its offices are divided into Northwestern, Northeastern and Southern Ontario regions with the main headquarters in Peterborough, Ontario.[1]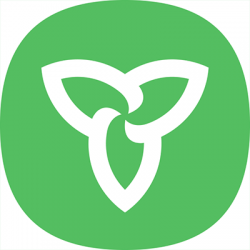 Latest posts by Natural Resources Forestry (see all)