Jan 10, 2018 @ 08:57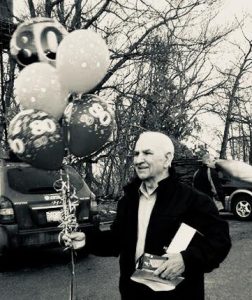 It is with profound sadness we announce the sudden passing of Rejéan (Geno) Lalonde in his 84th year on Saturday, January 6, 2018. He leaves behind his devoted wife Eveline Lalonde (nee. Morden) of 55 years. Will be and remembered by his children Bill (Veronica), Armand (Leanne), and Lance (Patricia). Beloved Grandpa to Allison (Aaron), Melanie (Jacques), Jennifer (Kellan), Alexandria, Angela (Mike), Maddie (Mark), and Spencer (Nicole).  He will also be missed by his grandchildren Alyssa, Anakin, Logan, and Spencer. Loving family friends of Dawn and Bill. Geno was survived by his sister Laurette. He was predeceased by sisters Annette, May, Lillian, Georgette, Pierette, Antionette, Rose, Sr. Adrienne, by brothers Maurice, Roger, Armand, and Roland.
A Visitation will take place Tuesday, January 9, 2018 at the Hendren Funeral Homes, Monk Chapel, Bobcaygeon from 5:00 p.m. to 8:00 p.m. A Mass of Christian burial will take place at Our Lady Queen of Peace Church, Bobcaygeon on Wednesday, January 10, 2018, at 11:00 a.m. Following the service a reception will be held at the Church hall.
As expressions of sympathy, memorial donations may be made to the Lady Dunn Health Centre Foundation Wawa, Ontario or a charity of your choice. 
Friends may send condolences or make donations by contacting the funeral home at www.hendrenfuneralhome.com or by calling 705-738-3222.