Aug 3, 2017 @ 16:36
During a summer when more Canadians and international travellers than ever are riding VIA Rail's transcontinental train, the Canadian, CN is trashing the schedule and the reputation of what is regarded as the world's finest long-distance passenger train.
"The delays CN is creating for the Canadian and its habitual lack of concern are out of control," says Transport Action Ontario (TAO) president Robert Wightman. "Whether they care to acknowledge it or not, CN has a contractual service agreement to efficiently and reliably handle the Canadian and all VIA passenger trains on its lines. CN is flagrantly disregarding this deal and shoving the Canadian into sidings clear across Canada to give its freight trains priority."
VIA's Canadian runs for 4,313 km from Toronto to Vancouver on CN lines, for which the former Crown corporation receives more than $6 million annually to do little more than allow it on its tracks. In 2009, CN forced VIA to lengthen the Canadian's schedule because of changes in its freight operations, adding an extra night and more costs to VIA's service. CN has failed to improve the on-time performance of the train and it is now at its lowest level of reliability ever.
"We've heard horror stories about this for quite some time, especially from Northern Ontarians who rely on the Canadian to provide their only access to several remote communities," says Northern and Eastern Ontario Rail Network (NEORN) lead spokesperson Eric Boutilier. "TAO and NEORN asked Toronto rail consultant and policy adviser Greg Gormick to look into this matter and provide his analysis. It doesn't paint a pretty picture of the results of CN's actions."
Gormick's analysis found the Canadian from Vancouver arrived in Toronto on schedule only once between March 2 and June 22, 2017. In the past week, it hasn't arrived on time at all. The Canadian due into Toronto on the morning of Tuesday, August 1 arriving 15 hours and five minutes late, after midnight on Wednesday, August 2.
Because of CN's insistence on the lengthened schedule, VIA now doesn't have enough cars to assemble an extra train in Toronto when the eastbound Canadian arrives late from the West. This delays the westbound train's departure and inconveniences hundreds of passengers. As a typical example, the westbound Canadian scheduled for Tuesday left 12 hours and 46 minutes late on Wednesday because it required the equipment and crew from the late inbound train.
"This drives costs up astronomically," says Wightman. "Sleeping car passengers, who pay as much as $9,000 per couple for high-end Prestige Class accommodations in the summer, are provided with hotel rooms at VIA's expense when the Toronto departure is seriously delayed. VIA also provides extra dining car meals to sleeping car patrons when the Canadian runs late."
However, coach passengers don't receive complimentary hotel rooms when the train departs Toronto late. Thanks to the Canada 150 Youth Pass VIA offered during this sesquicentennial summer, coach traffic is up more than 40 per cent. There has been considerable grumbling about the delays on social media by many of these new, first-time travellers, who have said it will, indeed, be a "once in a lifetime experience" because they won't ride the Canadian again.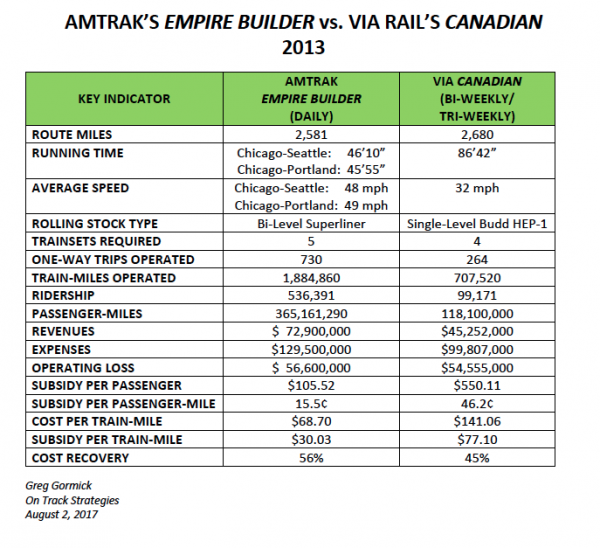 This is in sharp contrast with the performance of the Canadian's U.S. counterpart, Amtrak's Empire Builder, which operates daily on the Chicago-Seattle/Portland route just south of the Canada-U.S. border. As part of a 2015 report for Thunder Bay-Superior North MP Bruce Hyer, Gormick statistically compared the two trains (above chart).
Says Boutilier, "While the Canadian's performance has deteriorated, the Empire Builder has been consistently running on time, only a few minutes late or even early. This is on a route comparable to CN's, with lots of single-track and extremely heavy freight traffic. Part of that route is owned by Canadian Pacific, which Amtrak considers one of its top service providers."
TAO and NEORN are calling on Transport Minister Marc Garneau to resolve this situation. Both citizens' groups point out the damage done to VIA's Canadian is an insult to travellers and taxpayers, who ultimately pay for the abysmal CN service that undermines VIA's best efforts.
"The Canadian is a valuable component of our national transportation system, a vital provider of service to remote communities and a strong contributor to Canada's tourism industry," says Wightman. "It's time for Ottawa to call a halt to this shabby treatment of passengers, who should enjoy the same rights as a carload of grain or crude oil. If the government fails to act, then the Canadian's world-renowned reputation and marketability will be destroyed,"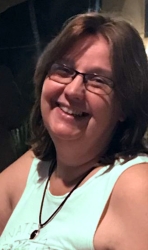 Latest posts by Brenda Stockton
(see all)