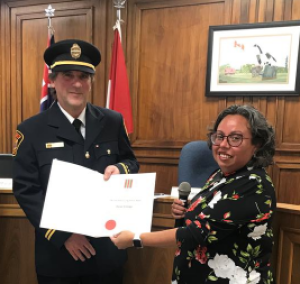 On Tuesday, September 5, 2023, Mayor Melanie Pilon and Fire Chief Kevin Sabourin presented Wawa Volunteer Fire Captain Mr. David Jennings with a 25 Year Fire Service Exemplary Medal and Certificate, sent on behalf of Ontario's Solicitor General. Proud members of the Wawa Volunteer Fire Department, family and friends attended the presentation to honour and pay tribute to David's 25 years of dedicated and continuous service to Wawa's volunteer fire service.
"On behalf of the Ministry of the Solicitor General and Members of Council, it was an honour to present this service award to David in recognition of his 25 years of service to the Wawa Volunteer Fire Department," said Mayor Pilon. "We owe David and all our fire fighters a huge debt of gratitude and thanks."
David began as a volunteer firefighter in 1998 and was appointed Captain in 2008. He has selflessly and consistently responded to hundreds of fire calls and participated in thousands of hours of training to ensure everyone received excellent service in emergency situations. David is known for being an exceptional firefighter and confidant to other firefighters. He has volunteered to serve Wawa and its residents for 25 years, at times putting himself at risk, and taking time away from family. David recognized his family and fellow firefighters at the event saying a heartfelt thank you to everyone for their support over his 25 years of service.
At the ceremony, a special thank you pin was also presented to Joanne Jennings, David's wife, by Chief Sabourin from the Ontario Solicitor General. The Ontario Fire Long Service Medal is an opportunity to recognize firefighters in Ontario who have honoured their commitment to serving and protecting citizens, and their families. Firefighters are truly unsung heroes and a part of the heart and soul of our town and the Municipality thanks David for his exemplary fire service for over 25 years.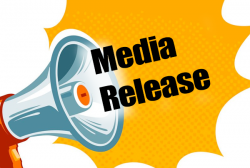 Latest posts by This Media Release
(see all)