June 9, 1936 – January 29, 2023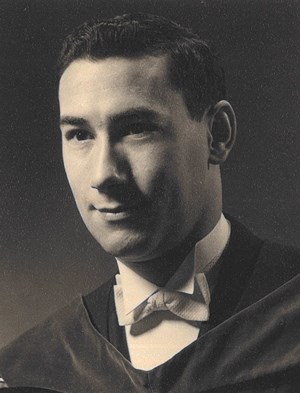 Surrounded by love and with his immediate family by his side, Dr. Arthur Severino Berdusco, 86, of Orillia passed away peacefully on Sunday, January 29, 2023, at the Toronto Western Hospital due to complications from a stroke suffered only days earlier.
Arthur ("Art") was the son of Palmira (Amadio) and Severino Berdusco, both predeceased.  Loving brother to Attilio (Audrey) both predeceased, Eddy (Pat) of London, Nancy, Ron, Rita (John Corsini) all of Hamilton, Betty (Ferd Wirth) of Sault Ste Marie and Fred of Cochran, Alberta.  Art was the beloved and cherished husband of Shannon (Donohue) for 61 wonderful years, and the proud father of Kimberley Anne of Toronto, Edward (Teresa) of Edmonton, Sherrie (Chris Blackwell) of Toronto and Paul (Leslee) of Midhurst.  He was a special brother-in-law to Don Donohue (Joanne) of Saskatoon and sister-in-law to Lynne (Dan Hardy) of Lucan, and the best, most mischievous and loving grandfather of Rebecca, Jeffrey, Andrew and Jessica Stokes, Erin, Nicole and Mackenzie Berdusco, Spencer, Darby, Alexandra and Carson Blackwell, and Michael, Emily and William Berdusco.
After graduating in 1961 from medical school at the University of Western Ontario, Arthur found his calling as an ENT (ear, nose, throat) specialist.  In search of the perfect place to establish his medical practice and to raise a family while enjoying the best quality of life possible, Art and Shannon settled on the shores of Lake Couchiching in Orillia.  As the only ENT in the area, Dr. Berdusco's warm smile and gentle way with patients, particularly children, was always appreciated.  He was a pioneer in the medical community, being instrumental in establishing an ICU at Orillia Soldiers Memorial Hospital and in creating the Surgical Journal Club in the early 70's, which paved the way for other medical specialities to form their own clubs.  Dr. Berdusco was active in the Orillia Medical Society Social Committee, played an important role in the formation of the Medical, Dental & Legal Society, and was awarded the Glenn Sawyer Award for his outstanding service to the community and to the medical profession.
While his distinguished medical career was something to be proud of, nothing was more important nor gave Art more pride and joy than his family.  It is well established that "the apple doesn't fall from the tree," and it was no different for Art.  He and Shannon raised four successful, respectful, sensitive, and at times mischievous kids, all of whom radiate their father's sense of humility and grace.  He was the consummate host of family reunions filled with bocce, euchre, volleyball, cribbage and of course, great laughs and bellies of food.  Rarely was Art happier than when he was surrounded by his grandchildren, showing them his latest creation in the workshop, making them giggle at his endless supply of jokes or teaching them the finer things of living life on the water and the joy of the outdoors.  One of Art's most distinguishable traits was his ever-curious and mechanically inclined brain; he was always at wonder for the ways things worked and loved to experiment and figure things out for himself.  Art was a master planner of countless parties and picnics and always ensured people had the best time when they got together.  How lucky were Art and Shannon to have such a close group of friends in Orillia who affectionately referred to themselves as the Dirty Dozen…says a lot about his love of a good laugh and his unparalleled sense of humour.  The twinkle in Art's eye and lifelong boyish grin made him a force to be reckoned with whenever a deck of cards was near.  He was an original member of the Railroad Bridge Club, and avid duplicate Bridge Player, and Treasurer and President of the Orillia Duplicate Bridge Club.
Although playing cards was definitely a strong suit for Art, one of his greatest passions was boating.  In 1982 he purchased the shell of a Corbin 39′ sailboat, then set out to painstakingly and lovingly create and complete the finished product, dubbed the "Work of Art."  Launched in the spring of 1989 he and his first mate Shannon sailed the Work of Art in the North Channel for 25 years. In 1999-2000, and again in 2003-2004, they set sail from Georgian Bay on the Work of Art headed to the Bahamas, which was both a challenge and adventure of a lifetime for them both.  There was really nothing that Art couldn't do, and he was proud to include fishing, woodworking, and a love of music in his list of hobbies.  Without ever reading music, he taught himself to play many musical instruments including piano, glockenspiel, guitar, mandolin and accordion…all by ear.
Friends and family are welcome to call at the Mundell Funeral Home, 79 West Street North, Orillia on Friday, February 3rd between 1 – 3 p.m. and 6 – 8 p.m., and/or to share in the celebration of Art's life on Saturday, February 4th from 1 – 3 p.m. at the Hawk Ridge Golf Club, 1151 Hurlwood Lane, Severn.
As much as Art loved gardening and flowers, his love of doing good things for others in need was even bigger.  In lieu of flowers, donations in Art's memory can be made to one of the following four organizations, each of which had a special place in his heart – Canadian Hard of Hearing Society, Orillia Soldiers Memorial Hospital (ENT department), Mariposa Hospice, or the Canadian Heart and Stroke Foundation.
Rest in peace, Art.  May the seas lie smooth before you, and a gentle, steady breeze forever fill your sails. May sunshine warm your face and kindness warm your soul. And, until we meet again, may you be blessed and at peace.  You were a gentle giant among men, and you will be missed more than you can possibly imagine.