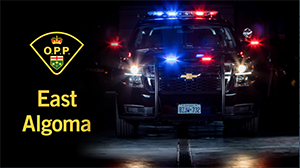 On January 8, 2022, members from the East Algoma Detachment of the Ontario Provincial Police (OPP) were on patrol duties in the Town of Blind River.
Shortly after 11:45 p.m., police observed a vehicle pulling out of a local gas station parking lot onto Causley Street with its high beams activated. The officer pulled up alongside the vehicle in an attempt to advise the driver that the high beams were on. The vehicle proceeded westbound on Causley Street, without speaking to the officer and consequently a traffic stop was initiated. A query revealed the driver had a criminal code suspension, two provincial suspensions and was wanted by Greater Sudbury Police Service.
As a result, Christopher MANNING, 37 years-of-age from Mississauga, Ontario, was charged with:
Operation While Prohibited Under the Criminal Code, contrary to section 320.18(1)(a)  of the Criminal Code
Driving While Under Suspension (two counts), contrary to section 53(1) of the Highway Traffic Act
The accused is scheduled to appear before the Ontario Court of Justice in Elliot Lake on March 3, 2022.  The vehicle was impounded and the accused was turned over to Greater Sudbury Police Service on the strength of their warrant.