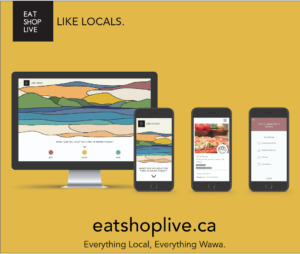 The latest chapter in Wawa's digital revolution begins today, and with it comes a new opportunity for pandemic-stricken businesses, lockdown-weary residents and people planning to visit the bold beauty of our Northern Ontario town.
Today, the Economic Development Corporation (EDC) of Wawa and Wawa's Business Improvement Association (BIA) will unveil their latest project, eatshoplive.ca, an online directory and marketplace. All BIA businesses will be represented for the launch of this first-of-its-kind local platform, created in partnership with the Digital Main Street (DMS) Future Proof program with funding made available from the Ministry of Economic Development, Job Creation, and Trade (MEDJCT).
"The EDC and BIA Wawa are excited to have the opportunity through the DMS program to pilot this innovative platform that has the power to change the food and retail shopping experience for locals, tourists, and transient travelers in Wawa," says Shah Mohamed, EDC economic development director.
From eatshoplive.ca (accessible from any web browser), Wawa restaurants, artisans and other local businesses can offer their products, services and accommodations—all at no cost to list. For these businesses and vendors, eatshoplive.ca provides some much-needed exposure while serving as a symbolic surfboard to safely shred the crest of the technological tsunami. Every step of the way, the DMS Digital Service Squad – a team of brand-savvy marketers with top-notch tech expertise and free sharable resources – is available to help businesses hone their online presence and skills.
" The partnership between the BIA and EDC in creating this program for Wawa exemplifies their dedication to supporting the community of Wawa" says Mayor of Wawa, Ron Rody. "It comes at an opportune time to support Wawa businesses and artisans during the pandemic and will flourish when we welcome back visitors to our community. On behalf of Council, I extend our thanks and congratulations to the members of the BIA and EDC at the launch of the eatshoplive.ca online resource made possible by Digital Main Street Future Proof program."
Thirteen months into the pandemic, the resource will be indispensable for the town's vibrant community of innovators, entrepreneurs, artisans and community leaders, Shah adds.
For residents and tourists, it's a digital revival of the downtown area's main-street glory days—complete with the intriguing aura of eating, shopping and living in Wawa. People are encouraged to use eatshoplive.ca beginning today and support Wawa's modern home-based businesses and traditional main-street shops alike.
"The site will serve to make Wawa's businesses more accessible and visible while creating a direct channel to regional customers and a larger market through online marketing and product sales," says Shah, who likens it to a digital version of the popular Goose Nest Market, a community-based market launched in Wawa two years ago.
Three lockdowns later, businesses need an opportunity
Eatshoplive.ca comes after three extended pandemic lockdowns over the past year in Ontario, which is now experiencing a "third wave" of cases, pushing many businesses to the brink of survival. "Our government is determined to help small businesses come through this pandemic stronger than before," said Vic Fedeli, Minister of Economic Development, Job Creation and Trade Ontario. "We are pleased to support the Digital Main Street initiative that is working with partners such as the Wawa BIA and the Economic Development Corporation of Wawa to help small businesses reach new markets and expand their customer base."
Since last March, businesses have been forced to adapt to a "new normal," and a big part of that is embracing the benefits of e-commerce, which hit a record-high $4.7 billion in retail sales across Canada in December. With more businesses developing a viable online presence to take a slice of that ever-increasing pie, it can only boost post-pandemic recovery efforts.
For businesses hurting during the pandemic – something that will remain a major concern until a critical mass of Canadians can be vaccinated later this year – eatshoplive.ca could not come at a better time.
"In a world where all of our businesses have felt insecurities tenfold in the past year, this program will aid our local businesses in not only developing an online presence but doing so at a level they feel comfortable with," says Heidi McLaren, BIA vice-chair and EDC board member. "We are hoping this will be a one-stop shop for our local customers. In turn, these customers and business owners will be proud to pass eatshoplive.ca along to their customers and visitors."
The next step in making a world-class Wawa
Eatshoplive.ca is just the latest step Wawa has taken into the digital realm, where the town's footing is firmly supported by businesses and residents.
"The BIA and EDC of Wawa work very hard and dedicate an abundance of time to all types of local business," says McLaren, who has worked with the BIA for more than four years and the EDC for two years. "There is no doubt in my mind the team standing behind the development of this program will make it worth your while to sign on and take it all the way to the top."
Eatshoplive.ca follows the EDC's involvement with another DMS program, ShopHERE Powered by Google, plus its work before the pandemic on a co-working space supporting local entrepreneurs  called "CoLAB." Supported by the Wawa EDC and BIA, ShopHERE Powered by Google drove more than 30 local businesses online, where they built fully customizable online stores in just a few days—again, at no cost to them.
"Now my customers are impressed with the user-friendly interface and easy check-out process," says Cindy Chiupka-Jozin, who launched her Green Cabin Pottery studio in Wawa in 2019 before joining the ShopHERE Powered by Google  program last summer. "I was ready to commit to working on my online presence, and the provided assistance proved essential to my online growth. I'm so appreciative of this opportunity."
After seeing a boost in sales, Chiupka-Jozin says the ShopHERE Powered by Google program "really helps small businesses or hobby artisans understand what an online business can look like and how easy it can be. Our small town has so much to offer locals as well as guests to our region," she says, adding small businesses are "essential to our local economy."
Both ShopHERE Powered by Google and Future Proof, the latter of which facilitates eatshoplive.ca are programs under the DMS umbrella. With direct support from the City of Toronto, the DMS program was created in 2016 by the Toronto Association on Business Improvement Areas, a non-profit group working with Toronto's 85 Business Improvement Areas (more than 90,000 business and property owners altogether).
The Digital Main Street programs are helping businesses explore new ways to connect with their customers in the online realm.
To browse eatshoplive.ca or list your own local business or service, visit eatshoplive.ca.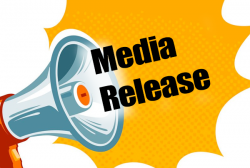 Latest posts by This Media Release
(see all)