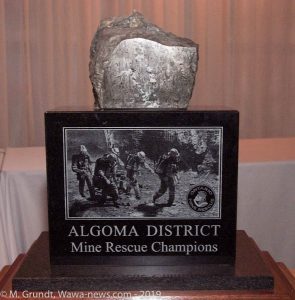 This past weekend Wesdome Gold Mine – Eagle River hosted the Algoma District Mine Rescue Competition at the Michipicoten Memorial Community Centre. This wasn't the first time that a mine rescue competition was held here – but it was the very first time for the Algoma District Mine Rescue Competition. Previously, Wawa and the surrounding mines were part of the Thunder Bay & Algoma District.
Barrick was the top Algoma team in this competition and will move on to the Provincial Competition being held in Red Lake next month. Wesdome (2nd) and Alamos were the other two teams that competed.
After a delicious dinner by Judy and her crew, the ceremonies began. The captain of the Wesdome Team, Manny Girard spoke briefly about the support given to the team in order to compete. He also gave thanks to the spouses of the men on the team for their support. Members of the Wesdome Team are Captain Manny Girard, 2nd Man Andrey Folusewych, 3rd Man Eric Lajoie, Vice Captain Joe Grasley, 6th Man Dave Forbes, 7th Man James Greer, Briefing Officer Anthony Roy, Technician Andre Proulx and Trainer Duane Roy. The Wesdome Team has been competing for 10 years.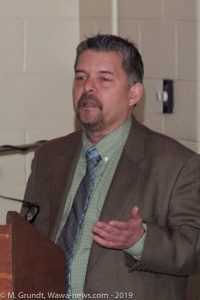 Jean-Guy Leclair, Wesdome Gold Mines – Eagle River Complex General Manager said a few words. He explained that he was from a small community in New Brunswick. Mine Rescue teams compete for years and train for a little more in order to compete, but we just hope that we never need them. "This is serious and we come here to compete, obviously my heart is with Wesdome – we've been training. But the reason we are here is to learn, train, and also have some fun." He expressed thanks to everyone who helped the Wesdome team in their preparation and all the other teams for their hard work. He also acknowledged that this is a very special year for Mine Rescue – the 90th year.
Awards:
10 Year Awards – Andre Proulx, Marc Belanger, and Steve Pinel
25 Year Award – Glenn Young, Barrick Hemlo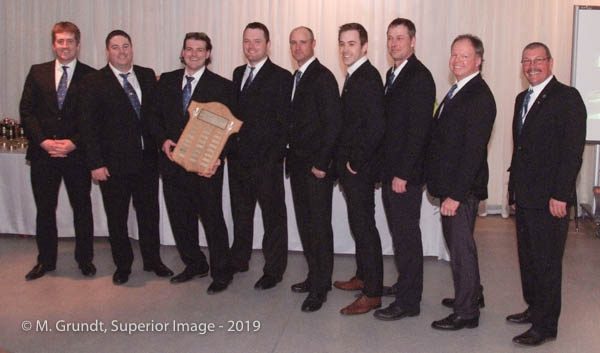 Paul Prusky Award (Proficiency in First Aid) – Barrick Hemlo
The last two awards were door prizes. The first was a beautiful painting commissioned by Trainer Duane Roy, sponsored by Boychuk Mining and painted by Mandy Forbes. The painting was won by Alex Brown (Barrick Hemlo). The second prize was a huge BBQ which was won by Ian Butler, General Manager Barrick Hemlo.
The Barrick Hemlo team is now off to compete in the 2019 Provincial Competition, to be held June 4 to 7, at Newmont Goldcorp's Red Lake Gold Mines in Red Lake.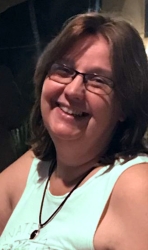 Latest posts by Brenda Stockton
(see all)