Jun 25, 2018 @ 16:40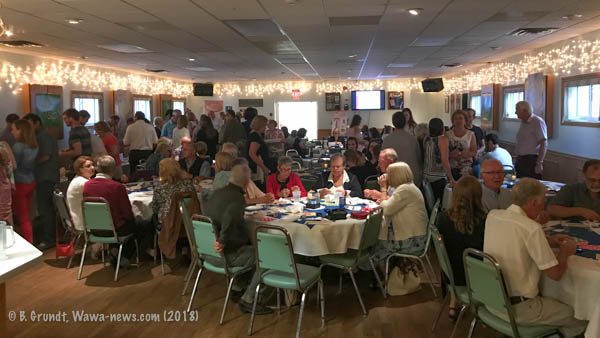 Once again the Lady Dunn Health Centre Wine Tasting was a sold out event! Eagerly anticipated every year, the tickets sold quickly, and they could have sold even more…
This year there were five wines featured:
Fiol 'Prosecco' – Antipasto Spears
Lindemans 'Bin 99 Pinot Noir' – Focaccia Pizza Fingers
Casillero del Diablo 'Shiraz Rose' – Cucumber and Carrot Slaw on Crackers
Fancy Farm Girl 'Frivolous White' – Mini Cheese Bites
For dessert:
Cupcake 'Red Velvet' – Red Velvet Cupcakes
Featured Sleeping Giant's beers were paired with Wawa's Famous Mason Sausages and Soft Pretzel Bites:
Northern Logger 'Lager'
Mr. Canoehead 'Red Ale'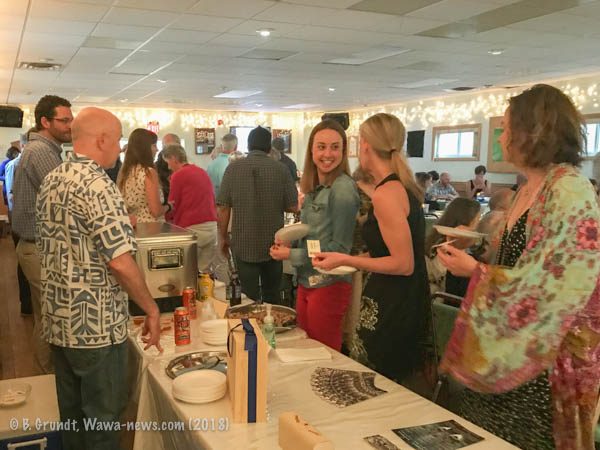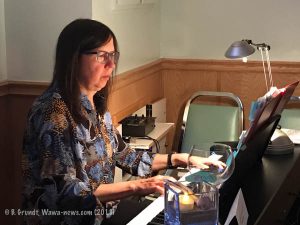 This room was abuzz with chatter about how the wines tasted paired with their chosen appetizer, trying to analyze and fill their scoring sheets. Conversation wasn't limited to the tables though. There was lots of conversation as people waited patiently in line for the next wine or beer to sample. If you listened closely there were comments about the appetizers, and how they might be delicious at a home party! In the background, the music played by pianist Mary Ciuciura was a perfect companion for the evening.
Behind the scenes though, were some very tired people. Planning for this event is intensive – but the results were perfect. Recipes for appetizers are picked, field tested (yum), wines and beers selected; grocery lists created and shopping done with a huge thank you to John's ValuMart for their assistance. The isn't over yet though, the food has to be prepped and assembled ahead if possible (Antipasto Spears). Cold dishes are a little bit easier, but those delectable little cucumber carrot slaw shrimpy crackers have to be made on demand so that they don't get soggy. Prep and timing is key to serve 125 people in a couple of hours! The organizers pulled it off, and everyone enjoyed and had fun.
This annual evening has been a summer feature since 2010, and most importantly has helped raise funds for the LDHCF's Capital Equpment Campaigns. Since 2009, $442,700 has been raised to purchase medical equipment for the Lady Dunn Health Centre. The 2017/18 campaign raised funds for:
ECG Machine – $15,000
Lab Services Freezer – $9,000
Two IV Pumps – $13,000
This year, Wawa-news is pleased to be able to feature the recipes that were part of the evening's festivities! Now you can feature them at your own home-hosted event.
My personal favourites for appetizers were:
Focaccia Pizza Fingers – so very tasty. It took me several attempts to get a good picture because everyone else thought they were delicious too, and there were none left to take a picture of.
Cucumber and Carrot Slaw On Rice Crackers – cool and refreshing, with a healthy little kick of spice.
Mini Cheese Ball Bites – so addictive! Will try them rolled in a spicy pecan praline.
Red Velvet Cupcakes – I accidentally grabbed a gluten-free cupcake. To my surprise it was delicious. Hopefully, I can get the recipe to add to the ones below.
Suprisingly my favourite wine was the Fiol 'Prosecco'.
Antipasto Spears

1.

Thread an olive onto a toothpick. Fold a piece of roasted red pepper and thread onto toothpick, followed by a strip of prosciutto. Place a chunk of goat cheese atop a bread cube, then spear both with the toothpick so the bread is on the bottom (this way, it will sit flat on a serving platter) and the olive is on top.

2.

Repeat with remaining toothpicks and ingredients. Arrange on a platter and serve.

3.

For this evening, the LDHFC altered the recipe substituting ham for the prosciutto, and used a mild cheddar cheese instead of the goat cheese and bread cube.

Wine Choice – Fiol 'Prosecco'
Focaccia Pizza Fingers

12-inc h

thin-crust pizza crust

2

tablespoons

olive oil

½

teaspoon

dried Italian herb seasoning

Kosher salt and pepper to taste

⅓

cup

red and yellow grape tomatoes, finely chopped

¼

cup

pitted black olives, finely chopped

1

green onion, finely chopped

¼

cup

finely grated Parmesan cheese

1 ½

cups

creamy Caesar salad dressing (optional)

1.

Preheat oven to 450ºF (230ºC) or to temperature indicated on pizza crust package. Brush pizza crust with oil. Sprinkle with herb seasoning and salt and pepper. Scatter evenly with tomatoes, olives and onion. Sprinkle evenly with cheese. Press gently so toppings adhere to pizza.

2.

Bake directly on middle rack of oven until bubbly and golden, 8 to 10 minutes or according to package directions.

3.

Let pizza stand for 5 minutes. With a pizza wheel or large sharp knife, cut pizza into about 18 fingers, discarding trimmings.

4.

The recipe suggests spooning a heaping tablespoonful (20 mL) Caesar dressing into about 18 miniature glasses and put a pizza strip in each glass. The LDHCD served these fingers au natural, and they were delicious.

Lindemans 'Bin 99 Pinot Noir'
Cucumber and Carrot Slaw On Rice Crackers

1. 

Combine sugar, vinegar, lime rind and juice, hot pepper flakes and salt in a small saucepan. Bring to boil over medium heat, stirring, until sugar is dissolved. Remove from heat and let cool for 5 minutes.

2.

Cut cucumber in half lengthwise. Cut each half into thin slices. Place in a bowl with carrots. Pour hot vinegar mixture over vegetables and toss to coat. Leave to cool. Cover and refrigerate for at least 2 hours or up to 1 day until vegetables are soft and infused with flavour.

3.

Serve on Thai shrimp chips or shrimp flavoured rice crackers.

4.

The LDHCF served the slaw on rice crackers topped with a couple of small shrimp as a garnish.

Casillero del Diablo 'Shiraz Rose'
Mini Cheese Ball Bites

2

tablespoons

salted butter, room temperature

8

ounces

cream cheese, room temperature

2

teaspoons

fresh lemon juice

⅛

teaspoon

Worcestershire sauce

⅛

teaspoon

hot sauce

⅛

teaspoon

freshly ground pepper

¼

cup

grated cheddar cheese

For topping:

⅓

cup

dried cranberries

⅓

cup

crushed nuts (almonds, pecans or walnuts)

⅓

cup

finely chopped green onion, or parsley (whichever you prefer)

12-15

pretzel sticks

Mini Cheese Ball Bites are the perfect party appetizer that's easier to eat and more practical then a large cheese ball.

1.

In a medium bowl add the butter, cream cheese, lemon juice, Worcestershire sauce, hot sauce, and ground pepper. Beat with an electric mixer until well combined and smooth. Stir in cheddar cheese.

2.

Use a spoon to divide the mixture into 12-15 tablespoon-size portions. Dip your clean hands in a little bit of water and smooth each portion into a small ball.

3.

Refrigerate for at least 30 minutes (or as long as you want to in advance). Before serving, roll the balls in cranberries, nuts, parsley or green onion. Place a pretzel stick in each. Serve immediately.

4.

The cheese balls can be made a day in advance. Make them as instructed, but don't add the pretzels until right before serving.

Fancy Farm Girl 'Frivolous White'
Soft Pretzel Bites

1 ½

cups

(300ml) warm water (110-115°F)

1

package

(2¼ tsp, ¼oz, 7g) RED STAR Platinum Superior Baking Yeast

1

teaspoon

salt

1

tablespoon

(8g) light brown sugar

1

tablespoon

unsalted butter, previously melted and not scorching hot

3 ¾

to 4¼ cups all-purpose flour, plus more for counter surface to knead

1

large egg, beaten

Coarse sea salt for sprinkling

9

cups

water, for pretzel bath

⅔

cup

baking soda, for pretzel bath

1.

In mixing bowl, dissolve yeast in warm water. Stir until fairly mixed. Add salt, sugar, and melted butter; stir. Slowly add 3 cups of flour, 1 cup at a time. Mix with a wooden spoon or dough hook in a mixer until dough is thick. Add ¾ cup more flour until the dough is no longer sticky. Poke the dough with your finger – if it bounces back, it is ready to knead.

2.

Turn the dough out onto a lightly floured surface. Knead the dough for about 3 minutes and shape into a ball. Place in a large mixing bowl that has been lightly coated with nonstick spray. Cover and let the dough rest in a warm area for about 10 minutes.

3.

Preheat oven to 425°F. Line two large baking sheets with parchment paper or silicone baking mats. Set aside.

4.

With a sharp knife, cut ball of dough into 6 sections. Roll the dough into six 20-inch long ropes. Cut the rope into 1½-inch pieces to make bites.

5.

Boil 9 cups of water with ⅔ cup of baking soda. Drop 8-10 pretzel bites into water and let sit for 20 seconds. Remove with a spatula or slotted spoon and place onto the prepared baking sheet. Make sure the bites aren't touching.

6.

Brush beaten egg over each pretzel bite. Sprinkle with sea salt. Bake batches for 15 minutes each, or until golden brown.

7.

Remove from oven and serve. The LDHCF served them alongside Wawa's famous Mason Sausage with Algoma Highlands Jalapeño Jam, BBQ sauce, and two gourmet mustards.

8.

Make ahead/ Freezing instructions: For freezing, the prepared pretzel dough (or shaped dough) can be refrigerated for up to one day or frozen in an airtight container for three months. Thaw frozen dough in the refrigerator overnight. Refrigerated dough can be shaped into pretzels while still cold, but allow some extra time for the pretzels to puff up before the baking soda bath and baking. Baked pretzel bites freeze well for up to 3 months. Thaw and reheat in the oven at 300°F (149°C) until warm.

Northern Logger 'Lager'
Mr. Canoehead 'Red Ale'
Wawa's Famous Mason Sausages

In order to get Wawa's Famous Mason Sausages, you have to contact a member of the Woodland Mason Lodge, and get on the list. Sausages are made every month in the summer, and delivered to your residence. Sausages range from mild to XXXHot (special order).

1.

Boil sausage until cooked, drain water, and fry until skin turns brown in places. Sausage can also be cooked on a barbecue for additional flavour.

2.

Wawa's famous Mason Sausage with were served with Algoma Highlands Jalapeño Jam, BBQ sauce, and two gourmet mustards.

Northern Logger 'Lager'
Mr. Canoehead 'Red Ale'
Red Velvet Cupcakes

6

tablespoons

salted butter, at room temperature

6

tablespoons

dark brown sugar, packed

1

egg, at room temperature

6

tablespoons

sugar, white

½

teaspoon

vanilla extract

1 ¼

cups

all-purpose flour

2

tablespoons

cocoa powder

½

teaspoon

baking soda

½

teaspoon

baking powder

1 ¼

cups

buttermilk

2

teaspoons

white vinegar

1

teaspoon

red gel food coloring

Cream Cheese frosting:

½

cup

unsalted butter, at room temperature

¾

cup

6 oz cream cheese, at room temperature

2

cups

icing sugar, sifted

1

teaspoon

vanilla extract

1.

Preheat the oven to 350°F. Line muffin  tins with large muffin liners. Sift together the flour, cocoa powder, baking soda, baking powder and salt. Whisk the ingredients to combine.

2.

In a separate bowl, beat together the butter, brown sugar and white sugar using a hand or stand mixer. Add the egg, vanilla extract and red food coloring to the butter mixture and mix well until the mixture is homogenous and fluffy. In yet another bowl, mix together the buttermilk and white vinegar. Add the flour mixture to the butter mixture in two additions, alternating with the buttermilk.

3.

Spoon the batter evenly between the muffin liners. Bake the large  cupcakes for 18-20 minutes and the small cupcakes for 10-12 minutes, until the top of the cupcakes springs back after being pushed down gently. Cool the cupcakes in the tin for 10 minutes before letting them cool completely on a rack.

4.

For the cream cheese frosting, beat together the butter and cream cheese until the mixture is fluffy, about 2-3 minutes. Add the icing sugar and vanilla extract and beat gently until the sugar is well incorporated. Pipe or spread the frosting on each cupcake.

5.

Notes: The cupcakes should be stored in the fridge but served at room temperature. If you want a more natural red color, you can substitute the red food coloring with 3 tablespoons finely grated raw beets. In that case, use only 3/4 cup of buttermilk in the recipe.

Cupcake 'Red Velvet'
Red Velvet Cupcakes (Gluten Free)

140

g

butter, unsalted, at room temperature

¾

cup

caster sugar

1

teaspoon

vanilla

3

eggs, large

1 ¼

cups

gluten-free plain flour

2

tablespoons

cocoa powder, sifted

1 ½

teaspoons

baking powder, gluten-free

½

cup

milk

3

teaspoons

food colouring, red

1.

Preheat oven to 180C or 160C fan-force. Line 12 x 80ml (⅓ cup) capacity muffin holes with paper cases. Beat the butter, sugar and vanilla together in a large bowl with electric beaters until pale and creamy. Add the eggs, one at a time, beating well after each addition.

2.

Sift the flour, baking powder and cocoa together. Add the flour mixture, milk and food colouring to the butter mixture. Beat on a low speed for 2 minutes, or until smooth and thick.

3.

Divide mixture between prepared muffin holes. Bake for 20-22 minutes, or until golden and a skewer inserted into the centre comes out clean. Remove and set aside on a wire rack to cool for 5 minutes, then remove from tin and set aside to cool completely.

4.

The LDHCF used the cream cheese icing to ice the cupcakes.

Cupcake 'Red Velvet'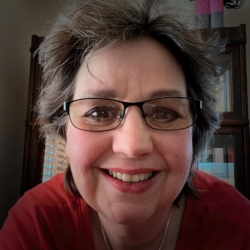 Latest posts by Brenda Stockton
(see all)