May 10, 2018 @ 09:55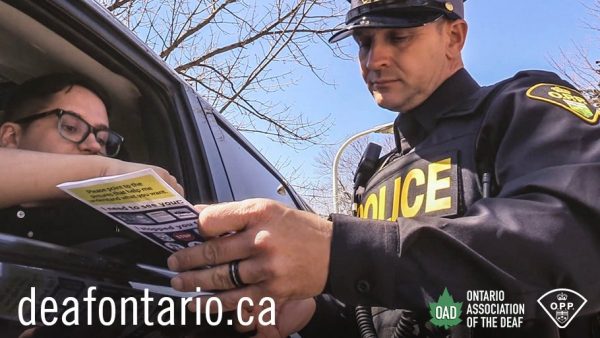 The Ontario Provincial Police (OPP) is committed to continuous improvement and finding new ways to deliver services to meet the diverse needs of our communities. In partnership with the Ontario Association of the Deaf (OAD), the OPP has endorsed a visor card to assist a Deaf person to communicate with a police officer during a traffic stop.
This is the first initiative of its kind to be endorsed by a police service in Ontario. The visor card was produced by the OAD. The OAD will be distributing the visor cards to members of the Deaf community who present an Ontario Driver's Licence during their annual Mayfest Festival being held from May 11-12, 2018.
The visor card may assist with bridging the communication gap by facilitating alternate communication methods such as hand signals and writing out instructions. The visor card includes images of what a police officer may need to see for identification from the Deaf person along with icons of common driving violations.
"The OPP works diligently with our community partners to recognize barriers and address them to provide the highest level of services possible. In addition to a number of uniform members who are able to sign, the visor card further enhances accessibility with members of the Deaf community by improving the quality of communication between a Deaf person and an OPP officer," Commissioner Vince Hawkes said.
About the OAD
Ontario Association of the Deaf is Canada's oldest Deaf non-profit organization. For over 130 years, OAD has placed special focus on educating and advocating in the interests of all Deaf Ontarians. Deaf people are the heart of OAD's efforts to ensure equality and protecting the rights of Deaf Ontarians. OAD provides resources, support, and advocacy to the Deaf Community of Ontario and individuals and organizations seeking information and assistance. For more information about the OAD and Mayfest Festival, visit deafontario.ca.