One of the real perks for me in this job is visiting with students in our school system. Many would be surprised to learn that my visits don't just focus on secondary school civics classes. I make it a point to visit classrooms from primary grades through to college. If we want our youth to be engaged and have an understanding of what democracy and government is all about, the time to start the dialogue is when they are young. Young minds are able to absorb and internalize what they learn at younger ages.
Recently when I was visiting an elementary class a young girl asked me what governments are really supposed to do for us. So now I'm posing the same question to you. Don't cheat now by reading ahead.  Think for yourself before you go further, what are governments supposed to do for us?
My response, in age appropriate language, was that the purpose of government is ensure citizens have the opportunity to pursue happiness, prosperity and freedom without fear of tyranny. In their lives people should know justice, domestic and international peace and they should be able to count on general health and welfare for all citizens.
Now here's question number 2: Looking back over the last 20–25 years, how well have the successive provincial governments been meeting the above needs?
Let's look at employment for a moment. NDP Finance Critic John Vanthof summarized the Statistics Canada February Labour Force Survey. John said that this month's jobs numbers reinforce what we have been hearing in communities across the province for years. As the cost of living continues to climb, and the services we count on get cut further and further, many Ontarians are struggling to find good jobs that allow them to provide for their families and plan for their futures.
The jobs that are being created in Ontario are less stable, offer fewer benefits, and less security than the good jobs that have been lost across the province over the last 20 years. Today's numbers show youth employment in the province continues to fall below the national average, and women working full-time continue to be paid significantly less than their male counterparts. Despite these facts, the Wynne Liberals have failed to close wage loopholes that disproportionately punish marginalized workers, including women, students and people of colour.
As you contemplate how well Ontario governments have been governing, I am sure your mind will consider our healthcare system. Every week we learn of another hospital that is forced to practice hallway medicine.
For example, 68 year old Nancy Bilboe of Welland spent 24 hours in the local ER receiving her medical care in a chair. She was rushed to hospital in an ambulance on a Sunday morning with severe stomach pains. She spent her first few hours at the hospital in a wheelchair in the waiting room, and then was moved to a reclining chair. She stayed in that chair in the busy, overcrowded ER for the rest of her 24-hour stay at the hospital. Not only did Nancy receive her medical care in a chair in the ER instead of a bed in a room – she was told by the doctor that she should really have stayed in the hospital for further monitoring and pain management — but that there would likely be a two-day wait for a bed. Nancy went home.
A few days ago Andrea Horwath and NDP MPP Gilles Bisson toured Timmins District Hospital. While there they learned that Timmins hospital ER regularly sees double the number of patients that it was designed to care for. While front line staff do their utmost to meet patients' needs, the struggle just never ends.
The Liberals have had 15 years to make hospital care a priority, but they continue to let Ontarians down. Now we hear the Conservatives have plans to cut at least another $6.1 billion in jobs and services. They threaten to do even more damage. That's the last thing families need. For patients, it's time for something completely different.
Again I ask you, how well have successive Conservative and Liberal governments over the last 20-25 years met the needs of the people of Ontario?
We don't just need change. We need a change for the better.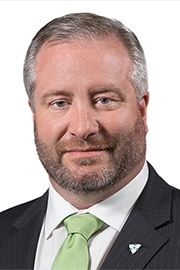 Latest posts by Mike Mantha
(see all)