Feb 2, 2018 @ 17:35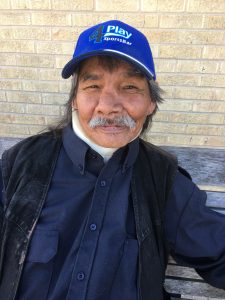 A gentle soul, a kind and artistic man who was loved by so many, has passed away at St. Boniface Hospital, Winnipeg on Tuesday, January 30, 2018, at the age of 56 years. Son of the late Anita (nee Sagetcheway) and Samuel Tangie Sr. Sam spent most of his adult life living in St. Boniface. Sam had a special affinity to nature. He loved St. Boniface, its expansive riverbanks, and green-spaces. It was on those riverbanks that Sam spent hours drawing, painting and enjoying the wildlife. Sam was a very special man with a very wide-ranging group of friends. Everyone in St. Boniface knew him.
Sam is being remembered by business owners, ordinary citizens, area churches, and many street friends. His greatest gift is reflected in the legacy he leaves in St. Boniface – it was Sam and the late Faron Hall (Winnipeg's Homeless Hero) whose sharing of wisdom, are the reason St. Boniface Street Links exists today. Sam will be remembered for his terrific sense of humour, his kindness, generosity and compassion for others.
Sam will be remembered by his brother Duane, his many cousins and a large extended family that extends to the Tangie, McWatch and Beaupre families.
In Winnipeg, Sam will be remembered through a special CBC News Story on the life of Sam Tangie. A link to the CBC story can accessed by contacting St. Boniface Street Links.
A special thank you to Marion Willis and Sam's Winnipeg family for their love, support, and care given to Sam.
A Celebration will be held at the Church Sam attended on Sunday, February 4, 2018, at 12:00 noon. There will also be Celebration of his life in Wawa, Ontario followed by an interment of his cremated remains with his grandfather and father in the spring.
In lieu of flowers, donations made to Morberg House or Winnipeg Street Links would be greatly appreciated. (Please contact www.stbonifacestreetlinks.com or call 1-204-294-7637 to place a donation).
Winnipeg arrangements entrusted to Cropo Funeral Chapel and Wawa arrangements entrusted to P.M. Gilmartin Funeral Home.