Jun 9, 2017 @ 10:00

Last night, June 8th, 2017, the Municipality of Wawa held a farewell gathering for the Wawa Goose. This, the second version of the goose, is retiring. Its replacement will be revealed July 1st as part of the Canada Day Celebrations.
At 6 p.m. the crowd began to arrive. By 6:30 over 150 people had joined at the base of the famous monument and were waiting patiently for the drone to do its magical thing and take video of the crowd bidding farewell.
A number of photographs were taken of them waving, waving goodbye to the Goose, and 'jumping for joy' that we are getting a new Goose! If you look closely you can make out faces. Do you see Mayor Ron Rody?
Unfortunately, due to technical difficulties, the drone was unable to fly – and Blair Mills (Wilderness Helicopters) came to the rescue.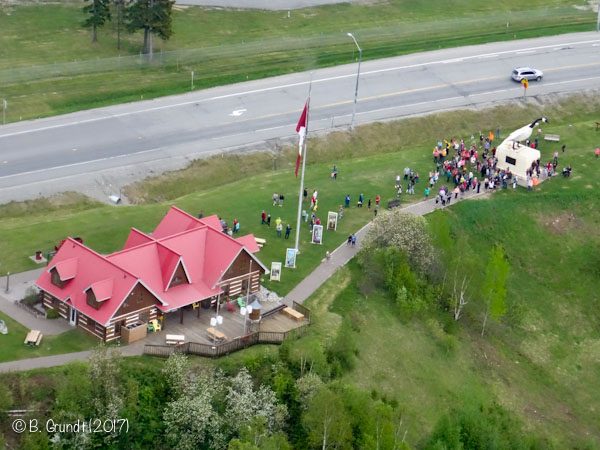 Melanie Watson coordinated the flight, Neil Mills helped bring the helicopter out of the hangar, and within 15 minutes we (Brian, Cathy and myself) were airborne and circling the Goose.
Thanks to cell communication, Brian was able to talk to the ground and have the crowd face the helicopter so that we could take pictures of them waving. Unfortunately, about half the crowd left — the flies were vicious, but the crowd was still substantial.
A quick circle around the Goose and we were done. The crowd was very patient, and they made these photographs memorable.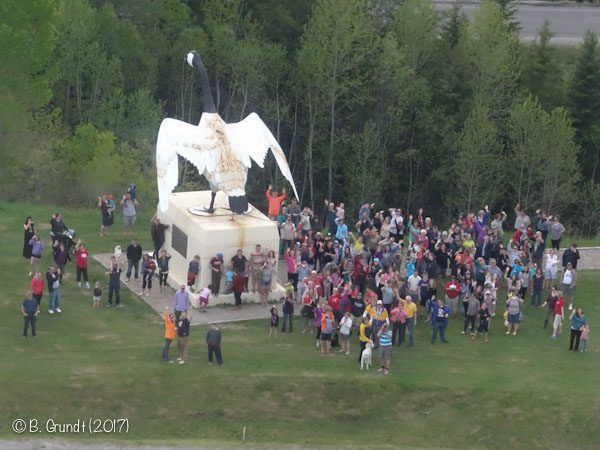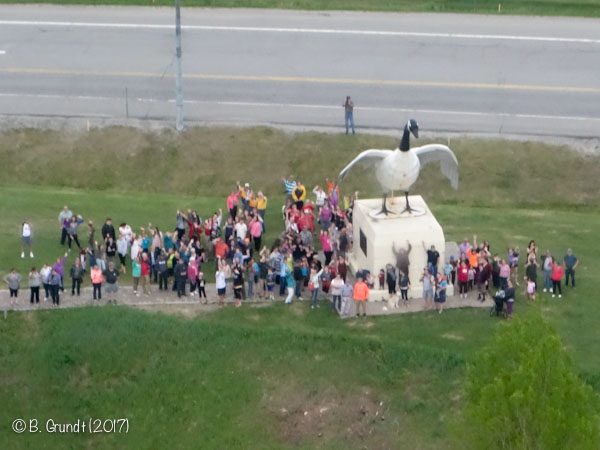 Wawa-news would like to thank all those who came out to bid farewell to the Goose, Municipal Staff, and especially Brian, who let me capture these photographs from the air. A huge thank you for Blair, Neil, Cynthia and Wilderness Helicopters for their generosity and community spirit!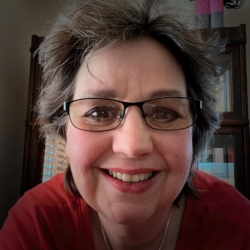 Latest posts by Brenda Stockton
(see all)