heyWeather – with the snow that fell last night be careful walking, as the snow might be hiding icy surfaces. Snow should end late this afternoon with amounts expected of 5 cm. Winds will remain steady northeast 20km with gusts to 40km changing to northwest near noon. It will remain cold with highs of -8, with the wind making it feel much colder.
Roads –  As of 5:30 this morning, Highway 17 from the Soo to Montreal River is partly snow covered with bare and wet road, snow covered sections. From there to White River it is snow packed with snow covered sections.
Local – St. Monica's Parish rummage sale is today! They are having a rummage sale, bake sale, and penny sale from 11 a.m. to 3 p.m. Come to the back door of the church at 11 to find your treasures. If you need a ride to sale and back home. call 705-254-9633.
Former Wawaite Lisa Froment is competing in the Festival de la St-Jean de la région de Kapuskasing! social media singing competition. These competitions on social media depend on people to vote for their favourite person (with the widest social media pull). If you are on facebook – find her video, by rolling your mouse over each to discover the name and vote! If she takes first she could win $5000, second $2000, or $1000 for third.
Area – Terrace Bay will be the setting for the filming of the winter portion "Angelique's Isle" on March 1, 2 & 3rd. Based on a true story, Angelique's Isle is the story of Angelique Mott and her husband, Charlie who were left for dead on a deserted island by a corrupt copper hunter named Cyrus Mendenhall during the copper rush of 1845.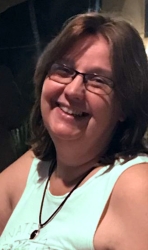 Latest posts by Brenda Stockton
(see all)