March 15th, 1926 – August 29th, 2016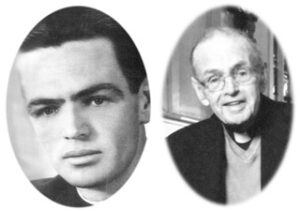 After having lived a faith-filled life Fr. James "Babe" Sharpe passed away peacefully with his family by his side. He was always proud to say, he was born in Creighton Mines.
Beloved son of John James and Flora (Grant) predeceased, and siblings Lawerence (Mary), Grant (Phyllis), Madge Mitchell (Bill), Mary Britton (Percy), Hugh (Neva), Viola Maloney (Harold), John (Iva), Velma Spurr (Donald) all predeceased and Shirley Leblanc (Moe predeceased). He will be profoundly missed by his sister Shirley and many nieces, nephews, and great-nieces and great-nephews. He has been a mentor to us all. Each and every one of us has so many wonderful memories of his story-telling, kindness, and unrelenting support when we needed it most. He attended Creighton Mines Public School, Copper Cliff High School,
He attended Creighton Mines Public School, Copper Cliff High School, Schollard Hall in North Bay, and Saint Peters Seminary in London. He was ordained to the priesthood on June 4th, 1955 at the North Bay Cathedral, and one of his proudest day was celebrating his first Mass in St. Michael's Church in Creighton Mines. During his 61 years as a priest, he served the Diocese of Sault Ste. Marie in Wawa (St. Monica's Roman Catholic Church), Manitowaning, Doubreville, Christ the King, Biscotasing, Levack, Lively, Garson, Falconbridge, Skead, Holy Trinity and St. Veronica's in Sault Ste. Marie. He had a deep love for all his parishioners and knew them all by name and their family connections.
Throughout his ministry he also served as Chaplain to the Irish Regiment, was a member of the Old Guard, member of the Former Sudbury General Hospital Council 1387, and Centennial Council Sudbury. He was invited into the Knights of Columbus in 1955 at Sault Ste. Marie and many years later initiated to the 4th Degree.
He always said of his priesthood that he came from a faith-believing home, community, and family. He attributes much personally to the inspiration of the late Ursula Black, principal of Creighton Mine Public School and the late Emmett Regan his long-time pastor, and the families of the faith-believing people of St. Michael's Parish.
Funeral Mass at Christ the King Church, 30 Beech Street, Sudbury on Saturday, September 3rd, 2016 at 10:00 A.M. (Family and friends may gather Friday 2:00 P.M. – 5:00 P.M.; 7:00 P.M. – 9:00 P.M. at the church with the vigil service 7:30 P.M. Friday.) Interment in the St. Stanislaus Cemetery.
In lieu of flowers, donations to World Vision Canada or Catholic Missions of Canada would be appreciated.
Arrangements entrusted to the Lougheed Funeral Home.