September 9, 2023
Ottawa, Ontario
The Prime Minister, Justin Trudeau, today issued the following statement on the passing of the Honourable Monique Bégin:
"I was saddened today to hear of the passing of the Honourable Monique Bégin, a respected teacher, academic, former Cabinet minister, and trailblazer for Canadian women.
"Born in Rome, Italy, Ms. Bégin was a teacher, who became an influential voice for women in Canada, including as a founding member of the Fédération des femmes du Québec and as the Executive Secretary of the Royal Commission on the Status of Women, where she helped promote equal opportunities for women in all aspects of Canadian society.
"In 1972, Ms. Bégin was elected as the Member of Parliament for the Montréal riding of Saint-Michel, making her one of the first three women from Québec to serve in the House of Commons. She was appointed Minister of National Revenue and then Minister of Health and Welfare. As Minister of Health and Welfare, she introduced two landmark measures that would make life better for people in Canada: the Canada Health Act, which cements our universal health care system by applying standards across the country, and a child tax credit, which paved the way to today's Canada Child Benefit.
"After more than 10 years in politics, Ms. Bégin returned to her teaching roots and entered academia. In 1986, she became the first Joint Chair in Women's Studies at the University of Ottawa and Carleton University. She later became the Dean of the Faculty of Health Sciences at the University of Ottawa – a role she held until her retirement in 1997.
"Ms. Bégin received numerous honours for her work, including the first Dr. Brock Chisholm Medal from the Medical Society of the World Health Organization in Geneva as well as honorary doctorates from 14 universities. She was also a Companion of the Order of Canada, a Distinguished Fellow of the Canadian Academy of Health Sciences, and an Honourary Life Member of the former Canadian Healthcare Association.
"Ms. Bégin was a passionate advocate, who left a lasting mark on Canada. On behalf of all Canadians, I offer my deepest condolences to her family and loved ones."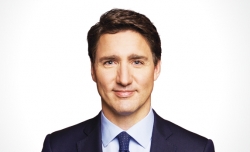 Latest posts by Justin Trudeau
(see all)