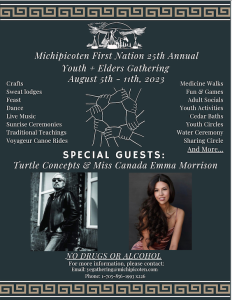 This year Michipicoten First Nation will celebrate the 25th gathering of youth and elders. his event brings our Michipicoten First Nation families, neighbours, and friends together to learn through ceremonies, workshops, teachings, traditional medicines, community feasts, and connect with Mother Earth. This year the Gathering will be held August 5th to August 11th, 2023.
Turtle Concepts will be providing a variety of workshops, and a very special guest, Miss Canada Emma Morrison will also be attending and teaching a ribbon skirt workshop.
Our Gathering has always been open to the public as a drug and alcohol-free celebration. We provide rough camping facilities on an as available basis, and daily meals to accommodate the majority of participants, and we do not charge a fee.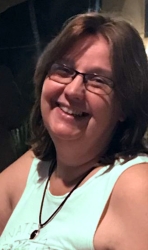 Latest posts by Brenda Stockton
(see all)