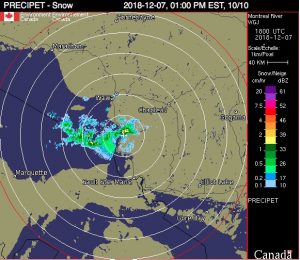 12:52 PM EST Friday 07 December 2018
Snow squall warning in effect for:
Agawa – Lake Superior Park
Searchmont – Montreal River Harbour – Batchawana Bay
Snow squalls are expected today into tonight.
Snow squalls bands have developed over Lake Superior and are affecting areas near Agawa Bay including Montreal River. These bands are expected to track north towards Lake Superior Provincial Park through the afternoon before tracking back south this evening towards Montreal River.
Under the snow squall bands, visibilities will be significantly reduced due to the heavy snow and snow will quickly accumulate.
Total snowfall amounts of 10 to 20 cm are possible by Saturday morning.
Snow squalls cause weather conditions to vary considerably; changes from clear skies to heavy snow within just a few kilometres are common. Travel is expected to be hazardous due to reduced visibility in some locations. Consider postponing non-essential travel until conditions improve.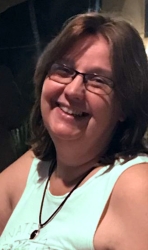 Latest posts by Brenda Stockton
(see all)