Sep 10, 2018 @ 09:51
While I have never claimed to be an artist or have any particular artistic skills, any lack of my own artistic talents has never prevented me from appreciating the creativity of others. A society's arts – be they visual, musical, theatrical, literary or whatever – provide an insightful reflection of our cultural values, beliefs and overall identity. The arts provide us with a way to share with others how we understand and see and experience the world around us. If nothing else they add joy to our lives and serve to remind us that life is worthwhile.
The reason for waxing philosophical on the Arts this week is that I recently learned that artists and artistic organizations in Algoma-Manitoulin shared almost $1.3 million in funding from the Ontario Arts Council (OAC) in the last year. The OAC promotes and assists the development of the arts in Ontario by providing grants and services to professional, Ontario-based artists and arts organizations. In Algoma-Manitoulin this funding was used to make no fewer than 81 separate projects become a reality. Congratulations to this year's recipients on their extraordinary work, their talent and their contribution to our cultural fabric that unites us all. I have always said that Algoma-Manitoulin's greatest resource is our people and I encourage everyone to get out to enjoy our local arts and support our local artists.
During my travels in recent days, I kept hearing people remarking Labour Day was suddenly upon us and where did our summer go? By and large, Labour Day signals excitement in the minds of our children as they look forward to going back to school to see their friends. They are probably almost as excited as the parents who relish the idea of having some peace, quiet and "normalcy" around the house again with the kids gone. This year, however, it seems people have expressed several reasons for concern about their children's education as kids head back into an air of uncertainty on several issues.
After years of Liberal neglect, Ontario is facing a $16-billion school repair backlog. One reason for parent concern is that, despite this backlog, Doug Ford has cut $100 million from school repairs. There is no question that this cut will hurt students who are now back in the classroom. This week students and staff are sweltering in classrooms where temperature and humidity reached 34⁰C; and by winter they'll be forced to wear coats at their desks in chilly classrooms. There are even schools with water fountains that aren't safe to drink from and roofs that are leaky.
Our students, parents and educators deserve a premier who makes education and the needs of students a priority. But instead of fixing the mess the Liberal government left behind, Doug Ford is taking the major school-repair problem from bad to worse by making deep cuts to repairs. Such concern is at the heart of an organization called Fix Our Schools (www.fixourschools.ca). This nonpartisan organization believes that all publicly funded schools in Ontario must provide safe, healthy, well-maintained buildings that provide an environment conducive to learning and working. The NDP agrees and understands that cutting $100 million from funds earmarked to repair crumbling schools is definitely dragging Ontario backwards.
On the matter of providing access to schools, the Ontario Human Rights Commission (OHRC) recently released a report on Ontario's education accessibility policy. It would surprise many of us to learn that, even today, too many students are still struggling to get the support they need inside the classroom. The newly released OHRC Education Accessibility Policy is a roadmap for making life better for students living with disabilities and helping everyone thrive in a barrier-free learning environment. The government must do the right thing and immediately implement these recommendations to improve outcomes for students living with disabilities. Instead, Doug Ford has set out on a path that keeps taking us further backwards in education. This sort of thinking is just plain narrow-minded and wrong-headed. Ontarians today believe in providing access to services and education for all people, regardless of any disabilities and learning exceptionalities that some of us may have, now or in the future.
Of course, when you speak of dragging us all backwards in time, Ford's stand on reverting to the long out of date sex-ed curriculum takes the cake. His stand is not about doing what's best for our children. It's just about placating the right-wing, conservative base that backed Ford's bid for leadership. However, this move is by no means going to slip by unchallenged. In addition to several special interest groups, the Elementary Teachers Federation of Ontario has launched a court challenge based on the grounds that Ford's plan violates the Charter of Rights of minority students as well as the rights of teachers. Think about it – should education curriculum be determined by elected officials who exist in a world of backroom deals, lobbyists and patronage; or by broad-based committees of professionals who have a complete understanding of their fields, our society and the needs of our children?
As always, please feel free to contact my office about these issues, or any other provincial matters.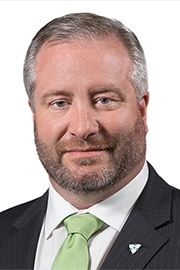 Latest posts by Mike Mantha
(see all)