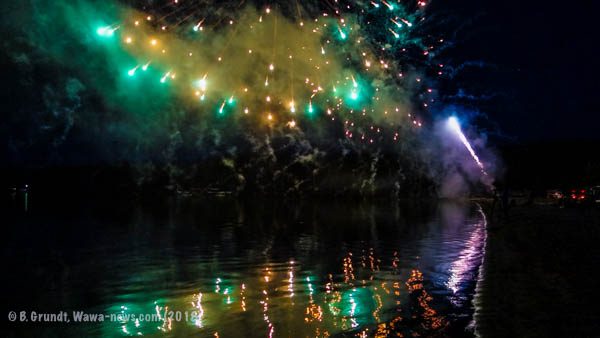 Although the Canada Day Fireworks 2018 were delayed by one day because of the rainy weather – they were worth the wait! The Wawa Fire Department, volunteers all – spent their afternoon preparing the site.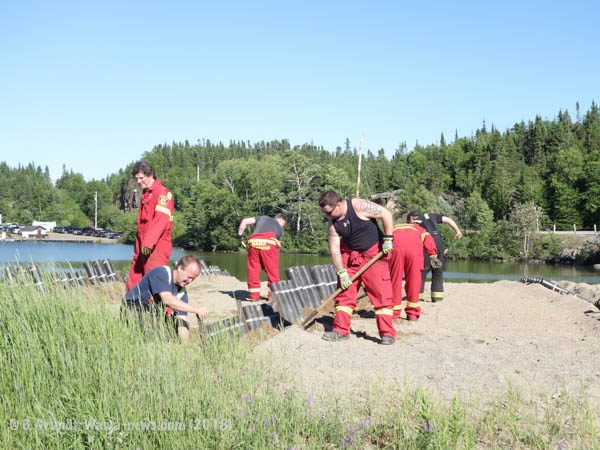 Trenches were dug to house the firework tubes. Then the tubes in their groups were placed in the trenches and then sand shovelled around to hold them in place. 1093 fireworks were unwrapped and then placed into the proper tube, all choreographed ahead of time. Despite the warmth of the day, there were concerns that the moisture still in the sand would be absorbed by the fireworks hindering a proper explosion.

That moisture, the rain is what delayed the fireworks show from the 1st. The rain had continued to fall into the late afternoon, not leaving enough time to safely setup the fireworks. This is a job that cannot be rushed, all safety precautions must be adhered to, despite the desire to show the fireworks on the proper day – the 1st.
In the end, though, the 2nd was the perfect day. Just enough breeze to blow the smoke away, and not enough breeze to ripple the water and prevent the lake's mirror surface from reflecting the fireworks.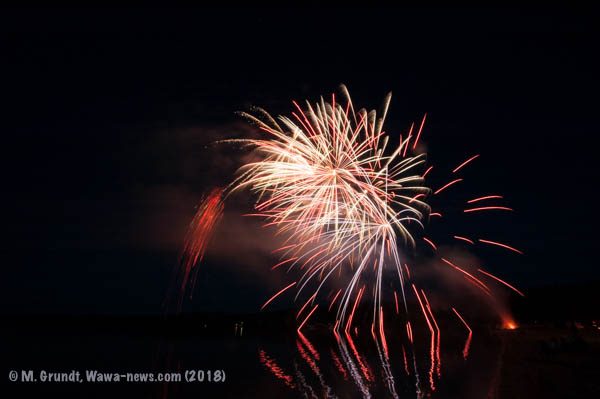 Once again, our volunteer firefighters deserve a standing ovation for the time (designing, ordering, storing, setting up, exploding, and time with their families) that they give up for our 5-6 minutes of a beautiful firework show.
Thank you!
Latest posts by Brenda Grundt (see all)