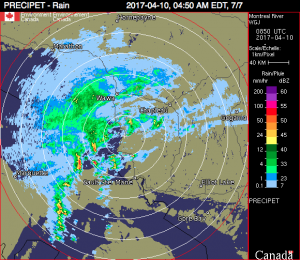 Apr 10, 2017 @ 05:51
Rainfall Warning
5:11 AM EDT Monday 10 April 2017
Rainfall warning in effect for:
Freezing Rain Warning
Freezing rain is expected or occurring.
Periods of freezing rain are expected to begin early this morning as temperatures drop below the freezing mark.
The freezing rain will persist for several hours before ending later this morning.
Take extra care when walking or driving in affected areas. Slow down driving in slippery conditions. Watch for taillights ahead and maintain a safe following distance.
Freezing rain warnings are issued when rain falling in sub-zero temperatures creates ice build-up and icy surfaces.
Special Weather Statement
Periods of rain will be followed by freezing rain Monday night.
Periods of rain are expected to affect portions of northeastern Ontario tonight and Monday. General rainfall amounts of 15 to 25 mm are likely. However, a few areas may receive higher amounts due to potential thunderstorm activity.
On Monday evening, temperatures are expected to fall below the freezing mark resulting in freezing rain.
The area is being monitored for potential rainfall or freezing rain warnings.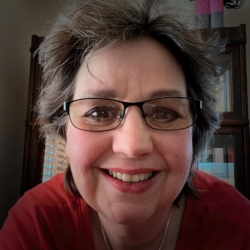 Latest posts by Brenda Stockton
(see all)