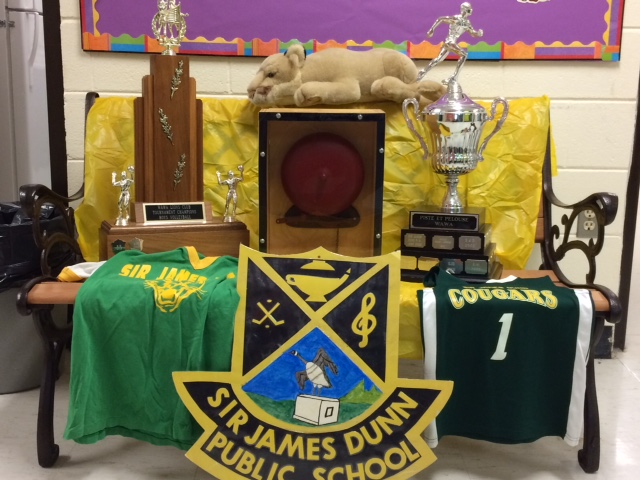 History – a word which refers to a record of past events and times.
History – a word that has so much meaning to the many staff and students that have walked through the doors of Sir James Dunn Public School in Wawa.
Sir James Dunn Public School was first opened in February of 1950. Back then, it was only a four-room school. By 1955, the iron ore boom and the growing population of Wawa expanded the school into a twenty room school.
The school boasts the name Sir James Dunn after an incredible man/figure in Canadian history. A man who is recognized chiefly for his 1935 rescue and 20-year presidency and proprietorship of Algoma Steel.
In April of 1974, Sir James Dunn Public School burnt to the ground. The students and staff then had to share space with the students of all the other schools until September of 1975 when the new school was completed. The official opening of the new Sir James Dunn Public School occurred on December 6th, 1975. The population of Wawa continued to grow and many former students and staff can probably remember having classes in portables or at Carl M. Beck just to accommodate everyone.
From its rebirth, the new Sir James Dunn thrived to offer different types of clubs/activities/awards for the students. Many former students can probably recall participating in choir, band, cheerleading, volleyball, basketball, gymnastics, curling, track and field, pep rallies, the Isabel Paul Handwriting Award, the Canada Fitness Test, the health hustle, the Real Samson French Award, science fairs, learning how to canoe across Wawa Lake, Pioneer Days, Character Club, Safety Patrol, Certificates of Merit and even Winit Awards. With every teacher that has walked through the doors of Sir James Dunn, came a passion for writing, a passion for mathematics, a passion for reading, a passion for sports, a passion for music, a passion for history, a passion for science, a passion for the great outdoors, and a passion for the French language.
Sir James Dunn has seen many changes over the last ten years. The closure of Algoma Steel and Weyerhaeuser caused a decrease in our town's population but it hasn't dampened the spirits of the current staff and students.
Several old traditions continue with the dedication and support of current teachers.
Many of us can remember playing sports at Sir James Dunn. There was always a great rivalry amongst the schools. What you might not know is that the teachers continued to keep a close eye on the many students who still hold Track and Field records. Some records have not been broken since 1978! I wonder if your school record is still on the list. We may canoe on Wawa Lake anymore but we certainly snowshoe in the winter months. To snowshoe up the bluff behind the Lady Dunn Hospital is truly a breathtaking experience for the students. Imagine looking down!
How many of you can remember your Grade 8 Toronto Trip? Well, that tradition still continues every two years. Through the sales of community calendars and the business sponsorships of calendar ads, the Grade 7/8 students continue to enjoy and experience this trip. It truly is five jam-packed days of fun, learning and adventures. We can't thank the community enough for your continued support of the calendars which allows our students to experience this trip.
Every year, Sir James Dunn takes pride in a very active Student Council. This group of dedicated students provides fun activities for the whole school to enjoy. Two of the most popular events are the Halloween Extravaganza (complete with a haunted house) and a Winter Fun Day. This club also gives back to the school. Monies raised through in-school fundraisers are put to good use. Over the years Student Council has purchased a sound system, school jerseys, outdoor benches, and even scooters. Way to go, future leaders.
The staff and students of Sir James Dunn are very community oriented. For example, every year, in partnership with our local Royal Canadian Legion, the students sell poppies and compete in the Remembrance Day Literacy and Poster Contest. We also assemble on Remembrance Day to honour our veterans locally and in our country. Sir James Dunn contributes to our local Food Drives, visits the Long Term Care patients at the Lady Dunn Hospital, collects garbage throughout the town on Earth Day, and helps our local church Thrift Shop.
French as a Second Language has been offered at the school for many years. The primaries grades (K – 3), learn French through a variety of activities such as rhymes, songs, picture stories, role playing, and games. The junior and intermediate grades (Gr. 4 – 8) use a student-centered approach that gives the students the opportunity to develop a basic, usable command of the French language in three strands: oral, reading and writing.
Sir James Dunn has a Cultural Room. Upon visiting this room, you will be immersed in the history and teachings of our First Nations peoples. We also have a Michipicoten First Nation support worker. The school will be offering Ojibway as a Second Language to its students starting in February.
Technology is here to stay. The overhead projector has been replaced with an Elmo, a typewriter with a laptop, a blackboard with a smartboard, VHS tapes and cassettes with CDs, old standalone computers with touchscreen computers and iPads. However, the library at Sir James Dunn remains. It has been considered one of the most inviting, well-stocked libraries within the Board. We love to read!
In conclusion, Happy 67th Birthday Sir James Dunn! You have truly taught all of us that,
"Every child deserves a champion – an adult who will never give up on them, who understands the power of connection and who insists that they become the best that they can be." – Rita Pierson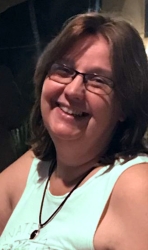 Latest posts by Brenda Stockton
(see all)