In a series of fast-paced games, the Queen Elizabeth "Warriors" from Sioux Lookout won 2 of 3 games against Wawa's Michipicoten High School "Vikings" in the NWOSSAA finals held at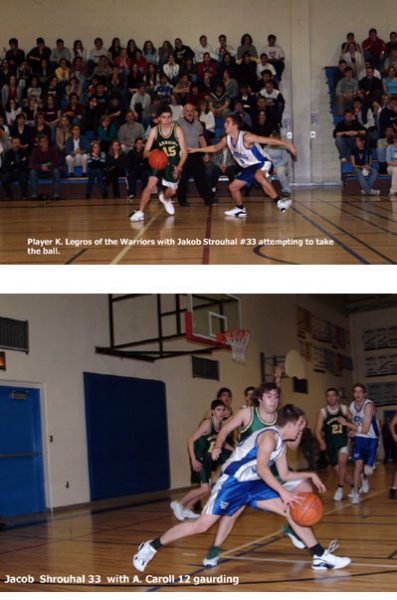 Michipicoten High School in Wawa, Tuesday and Wednesday.
The Warriors will be headed to London (starting games on Monday and finishing Wednesday) for the All Ontario Finals. They will be playing in a pool of 16 teams in the All Ontario Finals Secondary School Athletic Association.
This was the play-downs, each team had previously won gold in their division. The Vikings were victorious against Niprock in the North of Superior Secondary School Athletic Association finals two weeks ago.
The scores for the games played Tuesday and Wednesday were:
Game 1 – Vikings won 52 – 46
Game 2 – Warriors won 59 – 48
Game 3 – Warriors won 60 – 35
Ron Rose, Assistant Coach explained that it has been five years since a MHS team has progressed this far. "They perservered primarily on the conviction and dedication of their coach Chris "Shaker" Lapointe. He dedicates his whole being to the boys. He lives and breathes and probably eats basketball. These boys are his family."
Sitting on the bench taking photographs I could hear "Shaker" stressing good sportsmanship throughout the game, even in the darkest moments as they struggled to gain the lead. The cheering from the parents on Tuesday evening was just as loud as the students were during the Wednesday game. Many fans sported Viking "Tattoos", and some were wearing blue and white in a visible support of their team.
"They played really good, all three games, they played just incredible! I am very proud of the way that they played. Two games were played on Tuesday, and the last Wednesday afternoon, the boys were very tired, but they played well." Coach "Shaker" commented.
The games ran into difficulties after the second game Tuesday evening. Unfortunately one of the referees was scheduled to work Wednesday, leaving the game with only one ref. In this level of game, two refs are needed, and there was no one in Wawa available. The search was on. At about midnight Tuesday, a sympathetic coach in Sault Ste. Marie was reached, and he agreed to drive up the next morning and the last game was a go! The dedication that these referees showed in order to keep these games going was incredible and deserves notice.
Ron Rose commented that credit should be given to the coaches in the primary schools who begin teaching the students the game of basketball. The Knights of Columbus also help with their Free Throw Competition. If it wasn't for the work being done at that level; instilling good skills and a love of the game later would make the secondary school coaches far more work difficult.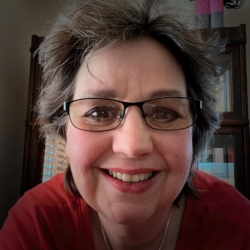 Latest posts by Brenda Stockton
(see all)