May 25, 1952 – January 16, 2023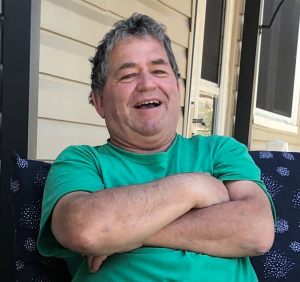 Passed away at Caressant Care LTC in Harriston, ON peacefully in his sleep after a difficult struggle with dementia.
Bob was born and raised in Elmira, ON and after retirement, he moved with his wife Irene to Wawa to be closer to his family. Bob was known for his hospitality and sociable nature. The people closest to him knew him to be a devoted husband, father, and friend. Bob was a rock in times of crisis, and he could always be counted on for his patience and kindness. Bob was a hardworking and dependable employee through the years driving truck for different companies. He most recently worked for Damar Fuels and was particularly proud of his years of service there. Bob strove to instill his work ethic in his children.
Bob was predeceased by his wife Irene in 2020. He will be missed by his 5 children: Steve and his wife Rochelle, and their children Tiana (Danny) Springer and Carter; Shane and his wife Andrea; Joel and his wife Bobbi-Jo and their children Seth (Cassey) and Levi; Elliott and his wife Jenn and their son Gibson; as well as as Bob's precious daughter Allison of Nelson, B.C.
He will be missed by his brothers and sisters: Marnie (Bill) Dolittle; Brian (Judy); Bruce (Rose); Linda (Harry) Liese; Beth (Brian) Beattie; the late Blair (Diane); Brenda (Gary) Cooper; Brent; Barbara (Alex) Lee; and Bradley (Sherry). He will be lovingly remembered by his many nieces and nephews.
Honouring Bob's wishes, cremation has taken place and a celebration of life was held in Elmira on Saturday January 21,2023
Special thanks to the staff of Caressant Care LTC in Harriston for their compassionate attention to Bob's needs!