May 2, 2018 @ 08:28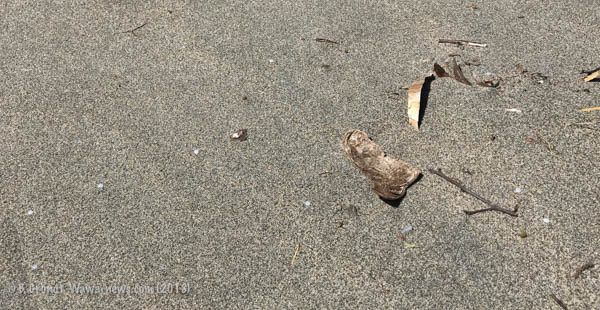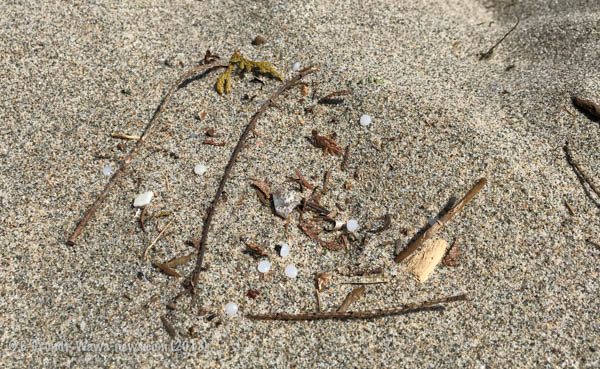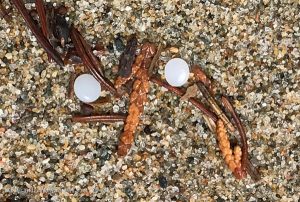 Nurdles on the beach? What are nurdles?
Nurdles are tiny, lentil-sized and shaped pieces of white plastic. Parents might be familiar with them as they were the stuffing in Beanie Babies. People in the plastic fabrication industry know them as the building material for nearly all our plastic products.
These photographs were taken Monday morning on Sandy Beach, Michipicoten Bay. First seen in 2008 after a train derailment near Caver's Hill, these nurdles have been seen throughout the northern shore of Lake Superior, and probably all shores. A search of news reports, reveals that these pellets have been found from Nipigon (2008 to present), Michipicoten Bay, Sand River (2015), Pancake Bay (2105). In Nipigon (Rainboth Point) last year, a cleanup by volunteers collected a total of approximately 34 Liters/36 quarts and a grand total of approximately 198,282 beads.
In 2016, Chuck and Danielle Hutterli spoke about this problem to Great Lakes Commons. They explained that the nurdles come from a derailment on January 21st, 2008 when a 4-bay hopper car with a 100-ton capacity, or 5,000 cubic feet capacity was breached (One rail car alone can carry an estimated 4.4 billion plastic pellets). From their interview, "they saw just nothing but a big pile of these pellets and a loader came to the site right away to get access to the main part of the derailment. They thought it was snow, looked like snow, it was white and it went off into the lake. They pushed it off into the lake. There was kind of a ledge where this derailment was. He pushed vast amounts of it off into the lake. Looking like well over 100 tons of it. The incident report is very confusing. They're not sure at times which car had the pellets, how many cars had the pellets, I've counted up to 4 in that report there."
CPR did a cleanup immediately after the derailment and continues to conduct clean up projects when called upon. From CPR Powerpoint presentation, "The collection of pellets was conducted with portable vacuums, a slow, labour-intensive process. In excess of 650+ person-days were dedicated to pellet removal between April and October of 2008. 50+ days of clean-up per year were performed in each of 2009, 2010 & 2011 utilizing similar methods. A revised recovery method was employed in 2012 (30+ days) and 2013 (20+ days) utilizing fire hoses to "scour" the upper 8-12 inches of sand. A containment boom was anchored parallel to the shoreline to prevent migration beyond the immediate work area, and the pellets were recovered using pool skimmers. CP was contacted by the provincial Ministry of Natural Resources & Forestry (MNRF) in Spring 2014 advising that evidence of the rare "beach dune tiger beetle", which nests in burrows in the beach sand, had been observed locally. CP retained an independent consultant to work with MNRF to complete an assessment of Mountain Bay Beach, and the presence of the beetles was confirmed. As a result, the "scouring" method was no longer allowed by the MNRF. Based on the decision by MNRF, two-person wooden sieves were fabricated by the contractor to screen the pellets manually. This labour-intensive method was utilized in both 2014 (40+ days) and 2015 (30+ days). CP was advised in 2015 by the provincial Ministry of Environment & Climate Change (MOECC) that evidence of pellets had been reported on beaches more than 250 kilometers "as the crow flies" from the initial derailment site. Subsequent inspection confirmed that the observed pellet presence was minimal relative to other plastics (bottles, etc.) and other waste streams, and that extensive clean-up efforts were not warranted. However, this clearly shows that the pellets are pervasive and widespread in the natural environment."
The problem persists, however. Chuck and Danielle believe that there is still a car missing, that's why eight years later they are still finding nurdles. When the storms and the wind blows from the east, the pellets continue to come, and they continue to clean their beach of these persistent white nurdles. And we will continue to see them as well.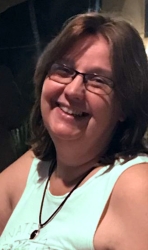 Latest posts by Brenda Stockton
(see all)