May 18th, 1959 – March 8th, 2018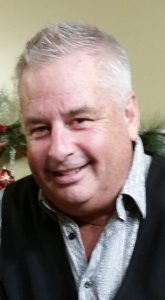 Passed away unexpectedly in Sudbury. Steven is fondly remembered as the eldest son of Jeannine Lebel (nee Ringuette) and the late Rhéal Lebel of Powassan. He is remembered as "Willis" by his beloved partner and best friend Gisele Lyons of Wawa. Gisele and Steven met in 2009 all because of a fishing trip at White Lake gone wrong. Remembered as "Dad" by his "Darling Daughter" Rebecca Lebel (Dustan Knee) of Wawa and his late son Ryan Lebel. Also remembered as the "Big Brother" by his late brother Jason Lebel and his younger sister Cheryl Lebel of Powassan. Steven will be remembered by his extended family, his step-daughter, his "Wingman" Christine Johnstone (Corey Black) and his step-son "Eager Wood Burner" Todd Prud'homme all of Wawa. "Papa Stevie" and Hero to Lindsay, Kassandra, Joshua and Jacob. Also remembered by his mother-in-law Jeannine Lyons of Azilda, brother in law of Diane Benard (Marc) of North Bay, Ed Lyons (Lynn) of Azilda and Jacqueline Morneau (Rob) of Chelmsford. Also known as "The Fishing Technician" by his friends and special neighbours. Known for his infectious smile and big hearty laugh, one could say his heart was as big as he was.
Born and raised in North Bay, he attended Ecole Secondaire Algonquin. At a young age he discovered his love and passion for fishing. He graduated from the University of Guelph in 1983 with an Honors Bachelor of Science Degree from the Fishery and Wildlife Biology program. He participated in various sports and social activities. His first summer job brought him to Kormak Lumber Company near Chapleau for which he was hired by his size.
The following year lead him to Wawa where he worked for the MNR cutting part of the Lake Superior Voyageur trail, then to Park Warden at White Lake park. He then moved on to work for Weyerhaeuser Strand Board Mill where he stayed for 12 years, working his way up to a supervisory role. When the mill shut down, he returned to the Ministry of Natural Resources and Forestry in Wawa, working many different contracts and roles.
He achieved his life-long goal of becoming a Management Biologist. He truly enjoyed his role especially with the moose and salmon surveys. He adored participating in Sturgeon Projects and being on the big boat with crews from Fisheries and Oceans Canada. He brought countless wildlife home overnight till accommodations were provided.
A big reason for loving his job was working with awesome co-workers in which he considered all as family and friends. He really enjoyed those out-house parties. He loved social gatherings, funny songs and telling corny and inappropriate jokes. Steve always had lots of time; he enjoyed every nap and favorite foods he could sneak in.
When salmon fever came a calling on Lake Superior, 6 am was never too early. He enjoyed fishing, curling, dances, 70's music, "dressing up" and shopping at Costco. But mostly his piece of paradise on Anjigami Lake; where beautiful memories were created with family, friends and the Anjigami clan. It was the only place he enjoyed doing chores; like his "million dollar" floating dock the grandkids can never get enough of. Always loved by many uncles, aunts, cousins, nieces, nephews & friends.
"May you be in peace on the big Lake in the Sky!"
A Memorial Mass will be held at St. Monica's Church on Saturday March 17, 2018 at 11:00 a.m. with Reverend Michael Asorgoe officiating. Following mass, a luncheon and time of fellowship will be held at the Michipicoten Memorial Community Centre.
If desired, memorial donations made to the charity of your choice would be greatly appreciated.
Arrangements entrusted to the P.M. Gilmartin Funeral Home.