October 24, 1954 – August 17, 2015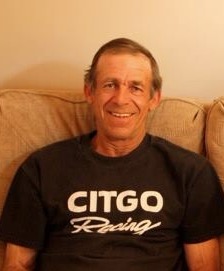 Passed away peacefully after a short, but courageous, battle with cancer at the age of 60.
Eric came to Wawa in 1977 for a seasonal job with the MNR and somehow never left.   He was happiest with a chainsaw in hand or behind a snow plow, far away from a city.  A man of many talents: forest fire fighting, snowplowing, firewood, and former owner and Jack-of-all-Trades at the Beaver Motel.  He moonlighted as the "Fix-It Man" and was training his grandson to follow in his footsteps.  Devoted pet-father to his many departed and beloved cats: Bandit, Tiger, Sylvester, Runtsky, Ginger, and of course the late Spottie Bruce who recently used up her nine lives and then some.   Somehow he even ended up with a toy poodle (Bailey, Poochie or bad dog – depending on the day).  Eric also leaves behind two beloved family members who will be moving to Ottawa: his grey Ford Mustang and his spunky little cat Sparta.
Eric was the proud father to Katherine (Chris) Babiarz and loving Grandpa to Davin Babiarz;  Best friend of 38 years to Barbara Andersen.  Brother to David (Carole) Bruce.  Son of the late Dick and Georgia Bruce.  Son-in-law of Nanna Andersen (late Hans).  Longtime brother-in-law to Tom (Karlyne) Andersen, and the late Ken Andersen (Pauline Dawson).  Uncle to Brennan, Victoria and Ian Andersen, Michael Bruce, and "Uncle" by love to many more.
Eric's beaming smile and endless [inappropriate] jokes will be missed by so many friends, neighbours, colleagues, racing buddies, and the coffee crew. He will be especially missed by his close friend Irene Niznik.
At Eric's request, there will be no funeral or visitation.  In gratitude of the kind and compassionate medical care he received, donations to the Lady Dunn General Hospital Foundation in his memory would be appreciated.
(Arrangements entrusted to the P.M. Gilmartin Funeral Home, 705-856-7340).
"The next time you are having a coffee uptown on Broadway Ave., please raise a cup to our friend, Eric."