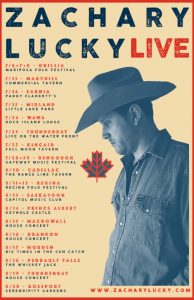 Zachary Lucky is coming to Rock Island Tuesday, July 24th for Dinner and a Concert.
Zachary is not a stranger to Rock Island. Wawa-news knows of at least three house concerts there, 2010, 2011 and 2012. Each time he was well enjoyed by the crowd.
Zachary Lucky is unapologetically old-school country, armed with a husky, baritone voice – He often receives comparisons to songwriters such as Gordon Lightfoot and Kris Kristofferson. He sings of Canadian places and people as knowingly as he might Townes Van Zandt or the Rio Grande. It's a relatable show on many levels, and conjures universal feelings that have passed through our collective timelines. Already hailed as a master storyteller by outlets ranging from No Depression to The Globe and Mail, and recently nominated best solo artist of the year at the 2017 Canadian Folk Music Awards, Lucky's Everywhere A Man Can Be is his most powerful statement to date.
"It feels very Canadian to me," is Lucky's personal take on Everywhere A Man Can Be. "We went into making it without any mindset of how it should be. We just wanted to get some people involved who really knew how to play their instruments and see what we could do together. I've never made a record in this way before, and I firmly believe it's the purest thing I've ever done."
The menu for dinner has yet to be announced, but will be served at 6 p.m. Call 705-856-2939 to reserve your seat. Dinner is served at 6 p.m. and the House Concert will begin at 7:30 at a cost of $15 and a donation to the Wawa Food Bank is always appreciated! If you can't make dinner, you're still absolutely welcome at the concert.
---
Directions to Naturally Superior Adventures/Rock Island: Turn west off Highway #17 (towards Lake Superior), at Camp High Falls (4 km south of Wawa) turning right when you arrive at the paved road of the Upper Michipicoten River Village. Turn right following the paved, then dirt road over the Silver Falls Bridge and the historic cemetery. Before going up the steep hill to the Michipicoten Bay Lookout, turn left immediately (after the Great Lakes Power hydro-station). Follow this road to their gate, where there is a large parking area and bus turn-around next to Government Beach. Just follow the signs!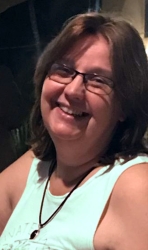 Latest posts by Brenda Stockton
(see all)