Apr 26, 2017 @ 09:50
Harte Gold is pleased to announce continued positive drilling at both the Sugar Zone and Middle Zone on the Company's 100% owned Sugar Zone Property, White River Ontario.
Six drill rigs are currently active. Three rigs continue to do infill drilling on the Sugar Zone in the area targeted for the next phase of mining as well as step-out drilling to expand the resource.
At the Middle Zone, two rigs are currently active doing step-out drilling to expand the mineralized envelope and infill drilling to bring the Middle Zone into the resource category. Middle Zone drilling has also defined where the mineralization ends, currently about 150 meters from surface, as well as the defining contact with the "Gabbro Intrusion" (A Gabbro is a late stage volcanic intrusion that in the case of the Sugar Zone was injected into the mineralized formation that carries the gold) on the north side. The dimension of the zone is now 400 meters on strike and 700 meters down dip. The zone remains open down dip and on strike to the south. Drilling towards the Sugar Zone and at depth is indicating the two deposits may converge at depth into a larger system.
In addition, a sixth drill rig has now started drilling further north at the Wolf Zone. Results from this program will be announced once sufficient drilling has been done to accurately confirm continuity of the mineralization.
Highlights of the drilling are as follows:
Sugar Zone: 30K Area – Phase 1 Commercial Production
Hole #
From
To
Grade (g/t)
Width (m)
SZ-17-124
149.50
151.35
17.794
1.85
SZ-17-126
164.58
166.27
18.351
1.69
SZ-17-133
including
174.15
174.15
175.90
174.90
41.711
96.900
1.75
0.75
SZ-17-134
including
152.95
153.15
154.75
153.55
33.597
135.00
1.80
0.40
(core intersection lengths approximate 80% true width, assay results are uncut, fire assay with metallic screen on samples >10 g/t)
Middle Zone Drilling Resource Expansion
Hole #
From
To
Grade (g/t)
Width (m)
WZ-17-59
including
708.09
709.61
711.65
709.89
7.28
47.10
3.56
0.28
WZ-17-61
including
637.70
640.80
642.87
641.20
5.98
50.10
5.17
0.40
WZ-17-62
213.90
216.00
9.00
2.10
WZ-17-66
including
246.60
247.48
248.18
248.18
8.98
19.60
1.58
0.70
WZ-17-67
including
698.37
699.88
700.18
700.18
14.86
84.20
1.81
0.30
WZ-17-68 including
including
189.95
283.71
283.71
290.27
191.71
291.69
285.00
291.69
17.17
3.99
9.79
13.02
1.76
7.98
1.29
1.42
(core intersection lengths approximate 80% true width, assay results are uncut, fire assay with metallic screen on samples >10 g/t)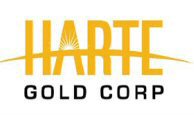 Harte Gold Corp. is focused on the exploration and development of its 100% owned Sugar Zone property where it has permitted a 70,000 tonne Advanced Exploration Bulk Sample for the Sugar Zone Deposit. The Sugar Zone property is located 80 kilometers east of the Hemlo Gold Camp. The Preliminary Economic Assessment dated July 12, 2012, contains an Indicated Resource of 980,900 tonnes, grading 10.13 g/t for 319,280 ounces of contained gold (uncapped) and an Inferred Resource of 580,500 tonnes, grading 8.36 g/t Au for 155,960 ounces of contained gold (uncapped). The mineral resource was prepared in compliance with NI 43-101 guidelines. George A. Flach P. Geo, Vice President Exploration, is the Qualified Person for Harte Gold and has prepared, supervised the preparation, or approved the scientific and technical disclosure in this news release. Harte Gold also holds the Stoughton-Abitibi property located on the Destor-Porcupine Fault Zone adjacent and on strike of the Holloway Gold Mine.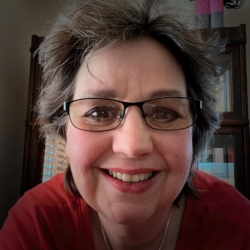 Latest posts by Brenda Stockton
(see all)