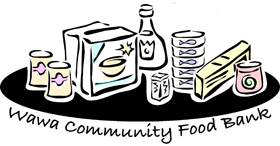 Wawa Community Food Bank wishes to acknowledge the support of many people over the January to March interval.  We have received financial donations and items as varied as eggs, milk, fruit and vegetables, pet food, knitted winter wear, socks and crocheted crib blankets.
Thank you so much to Nancy Donald, Linda Farrington, Lorne Leclair, Lila Peterson, Lorraine Pihelgas, Melanie Pilon, Neil Sager and Catherine Orr- Sager, Klawa Summers and Dr. Dannica Switzer.  Additionally we are grateful to our local branch of Algoma District Services Administration Board, our local Lions Club and Northern Credit Union, the Native Healing and Wellness Centre, Wagging Tails Kennel and Wawa Public Library.
The youth of our community are certainly demonstrating their concern for the well-being of others with very practical methods.
Jordan Chalykoff requested donations to the food bank in lieu of birthday presents.
Michipicoten High School Spirit Council, under the direction of their teacher advocate Kate Morrison, encouraged canned food and monetary donations with a Toonie For A Toque initiative. Students were able to wear a hat in school if they contributed to the fund or added to the huge assortment of non-perishable items.
Saint Joseph French Immersion School provides table ready fruit and vegetables with regularity.
The grade five/ six class of Jennifer Chandor- Hall at Sir James Dunn Public School recently celebrated 100 days of instruction with a challenge to the entire school to compete for the honour of collecting the most non-perishable food items. This competition produced multiple boxes for the benefit of food bank clients.
We offer our appreciation to the students, teachers and administrators for modelling charitable giving in our community.
Thank you as well to those anonymous donors who fill the bin inside the main door of the EDC at 96 Broadway Ave. and to staff and management of Valu Mart for providing a designated cart for donated food items and for their help in so many other ways. SUBWAY also receives our gratitude for the continued contribution of bread products.
Finally, we are indebted to the Wawa Ice Fishing Derby committee for encouraging so many participants to donate their catch to the food bank and to Chayse Penno for his skilled filleting of the many pike and lake trout enjoyed by our clients.
All of the above supporters have helped to ease the severity of this hard and long winter for people facing food insecurity in our town. Our sincere apologies to anyone we may have missed in this listing. Please know that all donations are valued.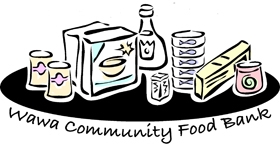 Latest posts by Wawa Community Food Bank
(see all)