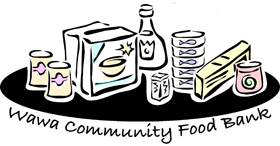 The Wawa Community Food Bank once again wishes to acknowledge the many expressions of support we have received over the summer months.
First of all, we recognise the many individuals who have provided gift cards, food or clothing items. Thank you to Lorna Chiupka, Emma Desgagne, Gordon Draper, Regis Kenny, Dave and Carol Robertson and the many anonymous donors who utilise our drop box. A special thank you goes to Jean O'Brien, a long- time supporter, for her beautiful hand knitted clothing and toys for the children of our clients.
Our appreciation is extended to Zoe Monette and her grade 9 religion class from Ecole St. Joseph for conducting a food drive for us at the end of June.
The management and staff of Valu Mart help us in so many ways, and earlier in the season held a fund raising and canned food drive barbeque for our benefit.  SUBWAY is also a valued sponsor, providing all our bread products.
The Canada Day Celebrations, sponsored by the Municipality of Wawa and organised by Brian Lachine brought in a large container of canned goods and a substantial cheque.
As recently as this past week, Wawa Economic Development Corporation held a fundraising endeavour on our behalf, selling Tim Bits and cotton candy.
Agree Outpost Camp from Kabenung Lake, known locally as Tamarack Camp, provided a van load of canned and dry goods as they close for their season.
Camp High Falls has again contributed much appreciated bedding items and Wagging Tails Kennel has donated many bags of dog food.
Canadian Tire has contributed multiple flats of bedding plants for our Community Garden vegetable plots. Thank you to Cindy Szekely for her solo efforts at planting, maintaining and harvesting the produce which our clients are now beginning to enjoy and to Sharon Moore for sharing the abundance from her plot.
Thank you to Debbie Lessard of Iris Place for sharing large quantities of ground coffee, originally provided to her by Nick Veldt of The Bargain Shop.
We appreciate the contribution of confiscated fish from the Ministry of Natural Resources and the assistance of Maury O'Neill and Larissa Bussineau of the EDC in bagging this well received bounty.
Wawa Public Library continues the policy of accepting a canned food donation in lieu of an overdue fine.
Although hunger and need know no season, summer is traditionally the time when donations to food banks diminish. Not in Wawa! We cannot sufficiently convey our gratitude to all of the above for the generosity and creative effort directed at easing food insecurity in our amazing community.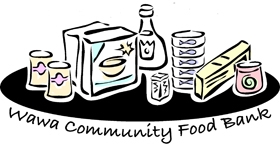 Latest posts by Wawa Community Food Bank
(see all)