Dec 13, 2017 @ 08:17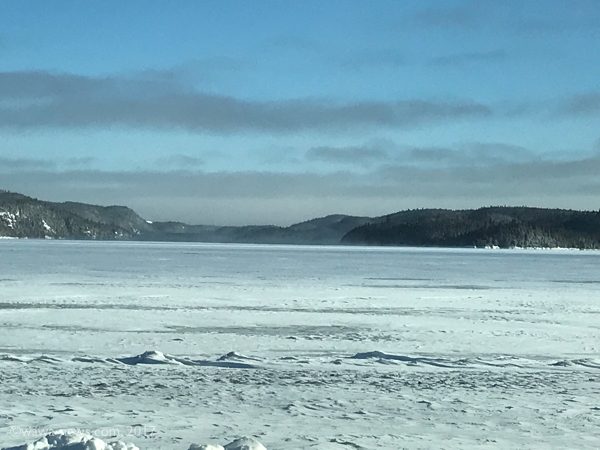 With the temperature hovering around -22C, it is no surprise that Wawa Lake is beginning to freeze over. Despite the snow Tuesday, the ice continued to stretch out towards the center of the lake. I was sure this morning that it would be completely frozen. To my surprise though, there is that patch in the centre that is still open.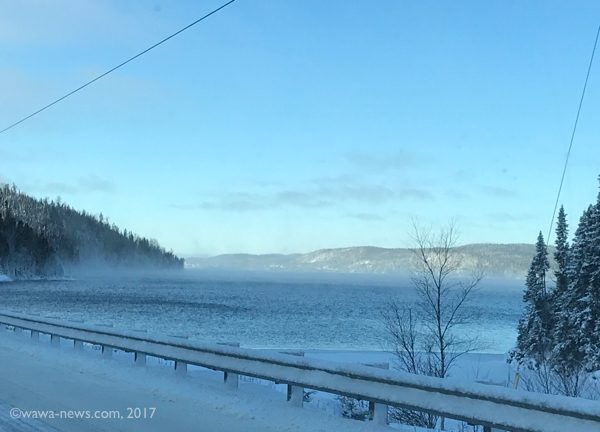 Several years ago, Andy Stevens shared information showing the dates that Wawa Lake was frozen over, and when the ice went out in the spring. That chart has been added to and is below.
Please exercise caution on the new ice, and be safe whether you are walking, skiing or snowmobiling on ice.
| | | | | | | |
| --- | --- | --- | --- | --- | --- | --- |
| YEAR | OPEN | | FROZEN | | | |
| 1949 | May | 2 | | December | 5 | |
| 1950 | | | | | | |
| 1951 | May | 3 | | December | 11 | |
| 1952 | | | | | | |
| 1953 | May | 10 | | December | | |
| 1954 | | | | | | |
| 1955 | April | 28 | | December | 10 | |
| 1956 | May | 15 | | December | 10 | |
| 1957 | May | 13 | | December | 11 | |
| 1958 | April | 23 | | December | 8 | |
| 1959 | May | 7 | | November | 26 | Earliest FROZEN |
| 1960 | May | 13 | | December | 12 | |
| 1961 | May | 8 | | December | 15 | |
| 1962 | May | 11 | | December | 12 | |
| 1963 | May | 17 | | December | 20 | |
| 1964 | May | 3 | | December | 6 | |
| 1965 | May | 9 | | December | 6 | |
| 1966 | May | 11 | | December | 2 | |
| 1967 | | | | December | 16 | |
| 1968 | April | 28 | | December | 14 | |
| 1969 | May | 11 | | December | 15 | |
| 1970 | May | 4 | | December | Late | |
| 1971 | May | 10 | | December | 17 | |
| 1972 | May | 10 | | December | 20 | |
| 1973 | April | 21 | | December | 11 | |
| 1974 | May | 12 | | December | 17 | |
| 1975 | May | 9 | | December | 9 | |
| 1976 | April | 30 | | December | 20 | |
| 1977 | April | 25 | | | | |
| 1978 | May | 13 | | December | 3 | |
| 1979 | May | 11 | | December | 14 | |
| 1980 | April | | | December | 9 | |
| 1981 | May | 3 | | December | 15 | |
| 1982 | May | 12 | | December | 13 | |
| 1983 | May | 11 | | December | 7 | |
| 1984 | April | 28 | | December | 18 | |
| 1985 | May | 8 | | December | 12 | |
| 1986 | April | 28 | | December | 12 | |
| 1987 | April | 20 | Earliest OPEN | December | 23 | |
| 1988 | | | | | | |
| 1989 | | | | | | |
| 1990 | | | | | | |
| 1991 | | | | | | |
| 1992 | | | | | | |
| 1993 | | | | | | |
| 1994 | | | | | | |
| 1995 | | | | | | |
| 1996 | | | | | | |
| 1997 | | | | | | |
| 1998 | | | | | | |
| 1999 | | | | December | 23 | |
| 2000 | | | | December | 12 | |
| 2001 | | | | December | 25 | |
| 2002 | | | | December | 3 | |
| 2003 | | | | December | 3 | |
| 2004 | | | | December | 17 | |
| 2005 | | | | December | 15 | |
| 2006 | | | | December | 6 | |
| 2007 | | | | December | 4 | |
| 2008 | | | | December | 15 | |
| 2009 | | | | December | 17 | |
| 2010 | | | | December | 15 | |
| 2011 | | | | December | 17 | |
| 2012 | | | | December | 22 | |
| 2013 | | | | December | 7 | |
| 2014 | May | 21 | Latest OPEN | November | 28 | |
| 2015 | | | | December | 31 | Latest FROZEN |
| 2016 | | | | December | 15 | Partially Frozen |
| 2017 | | | | December | 11 | Partially Frozen |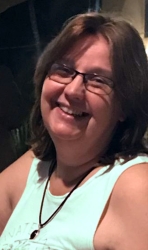 Latest posts by Brenda Stockton
(see all)