Mar 6, 2017 @ 08:14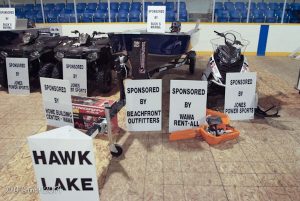 The 26th Annual Wawa Ice Fishing Derby was a great success! Sold out with 1400 tickets, organizers were pleased with the reception of the new format. For the first time, there were prizes for each lake, and the winner was the largest sport fish, independent of the species. The prizes were only awarded to the top six fish on each lake. There were lake trout, whitefish, pike, walleye and a brook trout entered. Of the top nine fish, 6 were lake trout, 2 were pike and one walleye.
The weekend began with the registration, and the draws for extra prizes that had been donated. Winners had to be present to win their prize.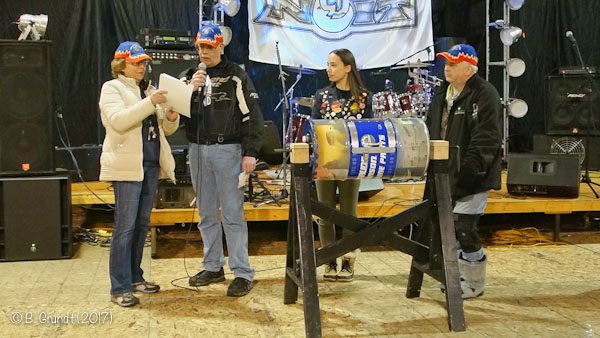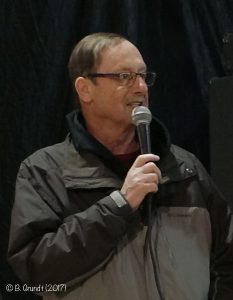 Saturday, the weather was beautiful and lots and lots of anglers could be seen out on Wawa and Hawk Lake if you were out for a drive. Fish were coming in throughout the afternoon to the delight of the attendees at the Michipicoten Memorial Community Centre.
Later that evening the registration draw prizes were drawn after welcoming speeches by Mayor Ron Rody and Rotary Youth Exchange Student Celine Mischke from Herzogenaurach, Germany.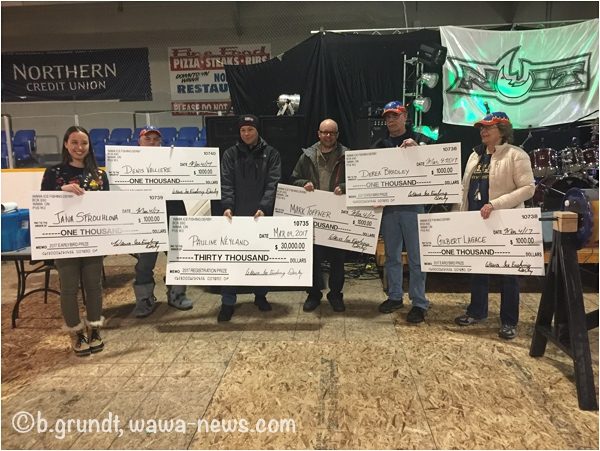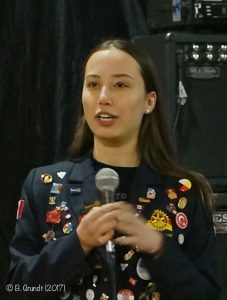 Celine drew the winning tickets from the barrel stirred by Derby Official Shayne Wardrop. Residents of Wawa were big winners, five tickets were drawn to win $1000 each: Mark Toffner, Jana Strouhlova, Denis Valiere, Derek  Bradley, Gilbert Legace all of Wawa.
The winner of this year's top registration prize of $30,000 is Pauline Neyland. In former years, Pauline would have won a pickup truck, the traditional prize. After the draws, the arena was the scene of a dance, with music provided by Nuit.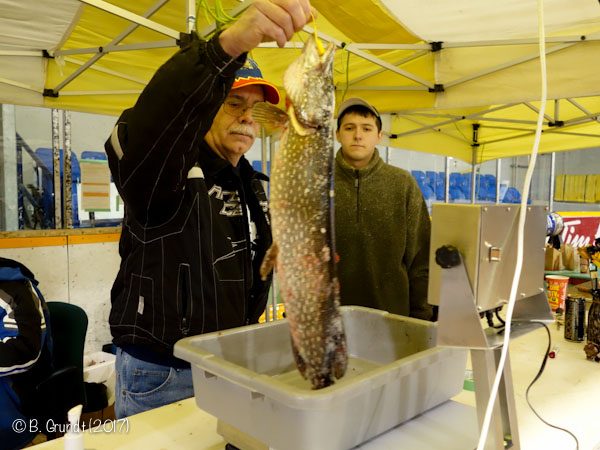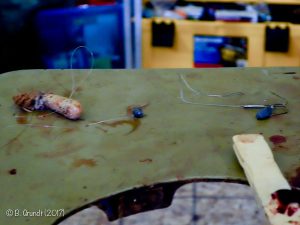 Sunday began out bright and sunny, but by lunchtime, the weather had changed. It was now cloudy and there were brief spurts of snow. The fish didn't seem to mind, they were hungry.
Many fish when they were cleaned still had undigested minnows in their stomachs. Chayse Penno who inspected and cleaned all the fish during the derby weekend, let every angler know what their fish was eating. Chayse was also the creator of the lovely steel roses for sale at the weigh-in station.
Finally it was time to give out the prizes for the winners. As reported earlier, the top six sport fish caught on one of the three lakes (Hawk, Wawa and Manitowik Lake) were prize winners. The winner had their choice of prizes, in order of ranking. 1st prize took their choice, and so on down the line. There were a couple of delays as some anglers were not present to choose their prize. Happily, one was reachable by phone with only a short delay, and the other two had left their choice of prize with the Derby Committee.
Winners of the 2017 Wawa Ice Fishing Derby are:
Wawa Lake

Hawk Lake

Manitowik Lake

1

7.03

Lake Trout

Michael Brown

15.97

Pike

Jo-anne Chartrand

10.16

Pike

Sylvain Bernard

(Dubreuilville)

2

6.38

Lake Trout

Jamie (Brett) Robinson

(Wawa)

11.03

Walleye

Bonnie White

9.50

Lake Trout

Heather Gagnon

(Dubreuilville)

3

6.16

Lake Trout

Devon Spooner

10.31

Lake Trout

Kris Bain

(Hawk Junction)

9.26

Lake Trout

Chad Schellekens

4

6.09

Lake Trout

Anders Dereski

(Wawa)

7.46

Walleye

Curtis White

9.05

Pike

Norm Savoie

5

5.63

Lake Trout

Colin Gallant

6.65

Pike

Shane Corbeil

8.63

Lake Trout

Robert Elliott

(Wawa)

6

5.35

Lake Trout

Kristan Washburn

6.05

Pike

Tyler Smith

8.21

Pike

Tristan Tuarze

7

5.34

Lake Trout

Tom Moore

(Wawa)

5.63

Pike

Jamie Cousineau

6.83

Lake Trout

James Ruffo

8

5.24

Lake Trout

Carl Case

(Wawa)

5.34

Pike

Ashley Fernandez

6.48

Lake Trout

Wayne Barill

9

4.37

Whitefish

Mike Sim

4.82 – Pike

Christine Hiebert

6.23

Lake Trout

Jacob Grey

10

4.11

Lake Trout

Gilles Begin

(Wawa)

4.63

Lake Trout

Wayne Ruff

6.20

Lake Trout

Terry Shewfelt
Latest posts by Brenda Grundt (see all)