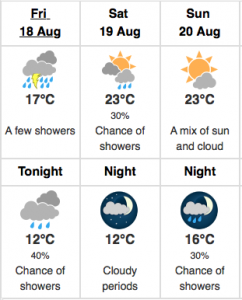 Aug 18, 2017 @ 07:49
Weather – Showers with risk of a thunderstorm. Wind becoming north 20 km/h this morning. High 17. UV index 3 or moderate.
Marine – Strong wind warning in effect.
Wind east 15 knots diminishing to variable 10 early this morning then increasing to northwest 15 late this morning. Wind increasing to northwest 20 near noon then diminishing to northwest 15 this evening. Wind diminishing to northwest 10 overnight then becoming light Saturday morning. Wind becoming southwest 10 Saturday evening. A few showers changing to chance of showers tonight.
Waves one half to one metre building to one and one half metres early this evening then subsiding to one half metre or less Saturday morning.
News Tidbits – The Salmon Derby begins today. Anglers will register all afternoon, and at 5 p.m. Derby officials will shoot the flare gun signalling the start of the derby. They will fish until 9 p.m. when all boats will come off the lake and return to the Marina. This is what is know as the 'Parade of Lights'. Everyone is invited to come down and watch the fish come in, the Parade of Lights, and enjoy a meal from the kitchen and/or a drink at the bar.
Don't forget – The Open House with the Thrift Barn tomorrow starting at 3 p.m.
Travellers heading west – A forest fire of note that may cause smoky conditions along the TransCanada highway north of Nipigon is fire number 099 in the Kama Hill area. A travel advisory has been issued in order to ensure firefighter and public safety. The Ministry of Natural Resources  is requesting the public's cooperation staying off of the Camp 81 road.  Fire crews, heavy equipment and air resources are currently responding to Nipigon Fire 99 in this vicinity.  Wildfire behavior is unpredictable, and local conditions can change very quickly.
Individuals travelling the Camp 81 Road may encounter closures to some spur roads (e.g. Main Road 7) to ensure safety and support fire suppression.  Recreational users may want to consider alternate routes like the Lachance or Gorge Creek roads instead.