Jul 10, 2017 @ 21:13
Mayor, Council and all of the staff at the Municipality of Wawa would like to extend our deepest sympathies to Doug, Kathleen and the family of Lori Johnson on her passing on July 7, 2017.
Lori's arrival in Wawa in February 1990 set Wawa on a path of regional leadership establishing important benchmarks in many areas. Working hand in hand with many community groups, Lori improved recreational programming for all. The construction and opening of the Michipicoten Memorial Community Centre in the late 1990's allowed Lori to apply her expertise to establish new programming that embraced the collaborative nature of the MMCC.
When the economy of Wawa and region started to fail, Lori recognized an opportunity and through her efforts, Wawa quickly increased its importance as a premier tourist destination.
Lori's legacy of the past 27 years includes involvement and initiatives that have benefitted Wawa and area, some of which have become a mainstay of Wawa's tourism economy including; the Superior Snow Loop Challenge, the Trail (Wawa's Tourism Marketing Plan), the Wawa Ice Fishing Derby, the Black Fly Run, The Wawa Salmon Derby, Valle Park, the Wawa Gold Quest (sled dog races), the Annual Canada Day Festival, the Northern Nationals Drag Races, the Gramma Doors and many new and traditional recreational and tourism related activities.
Lori recognized Wawa's uniqueness and its opportunity to brand itself, most notably using its most recognizable symbol, the Wawa Goose. Using her marketing expertise and love of Wawa, Lori established a plan to replace the aging Wawa Goose. It was Lori who insisted that the size, shape and look of the Wawa Goose had to be maintained as "Wawa's brand". Working with Council and staff, Lori ensured that geometric drawings were made of the Wawa Goose that would forever secure "the brand". Once secured, Lori put in place a program for fundraising and replacement of the Wawa Goose. The success of that program is due to Lori's efforts and her hard work was unveiled on July 1st, 2017.
Lori was a constant promoter of Wawa. At times accompanied by her family, Lori travelled to shows across Ontario and the northern United States to tell people about our wonderful area. Through these efforts, Wawa was featured on television programming for fishing, snowmobiling and motorcycling. Even as her health failed, Lori continued to promote Wawa.
Lori, you may be gone from our sight, but you are never gone from our heart.
In honour of Lori, all flags have been set at half-mast until after the service on Tuesday, July 11, 2017.
The Municipality will be closed from 10:30 a.m. on Tuesday, July 11, 2017 and will re-open at 8:30 a.m. on Wednesday, July 12, 2017.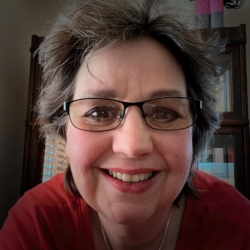 Latest posts by Brenda Stockton
(see all)