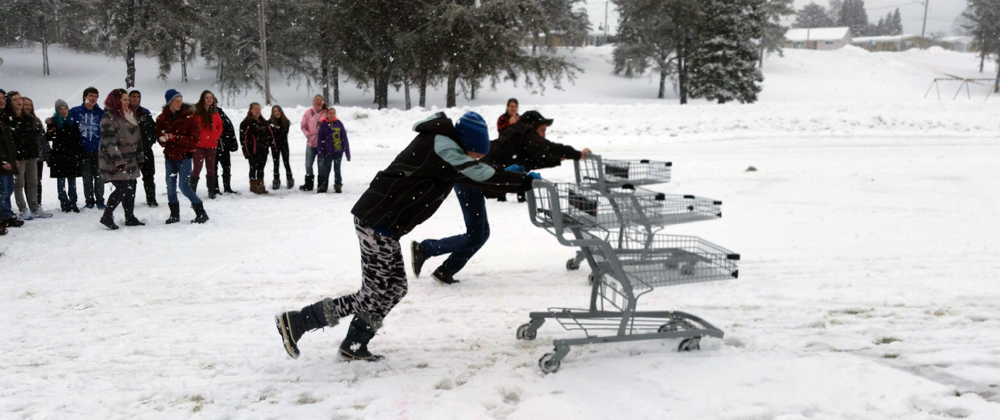 The halls of Michipicoten High school were busy last week with a pep rally for the outgoing boys' basketball teams who competed in NSSSAA , Valentine's celebrations and getting ready for the Wawa Winter Carnival.
The boys' basketball teams played in Manitouwadge last Thursday. It was a long day with the junior and senior boys playing two very difficult games. The junior boys beat Chapleau for the first time this season to take home the bronze medal. The senior boys, with only six players, lost a close battle to Chapleau in the bronze medal game. Good job on an excellent finish to the season. Thanks to coaches Miss Fresque and Matt Trudeau for their time and effort with the boys and to Mrs. Laing for helping to chaperone the final trip.
On Tuesday, the school held shopping cart races to raise money for Joe Robert's Push for Change campaign. Races were held in the afternoon and after rounds of elimination, Beau St. Louis was declared the fastest shopping cart pusher! He won Valu-Mart gift cards. Congratulations Beau! Thank you to John's Valu-Mart for lending the carts for the races. From the race entry and spectator fees, $85.00 was collected and donated to the campaign.
Students walked to the Michipicoten Memorial Community Centre to participate in the Push for Change event. They enjoyed hearing Mr. Robert's life story, cheering on the hockey players and perusing the displays of local services. They also were grateful for the free lunch from Tim Hortons.
To go along with the theme of the Wawa Winter Carnival weekend, the Lead class held a "How Many Waldos Can You Find?" contest. Students in the grade nine art class painted Waldos and the Lead class displayed them around the school and challenged everyone to find the Waldos.
Today, Tuesday, February 21st we will hold an academic awards assembly. Students who were on the honour roll last year will be given a plaque if it was their first time on the honour roll or a bar for their plaque if they had been on the honour roll in years past. Students will also receive awards from first semester teachers. These awards recognize students who displayed good work habits and participated well in classes.
Wednesday, February 22nd, is Pink Shirt day and students are asked show their support and wear pink. Pink Shirt day is held each year in February to bring awareness to the very important anti-bullying programs that help youth. Wearing pink is a way to show support for the anti-bullying movement and is also a promise to spread kindness and respect for the entire year.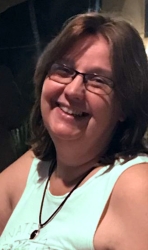 Latest posts by Brenda Stockton
(see all)