May 9, 1941 – February 22nd, 2009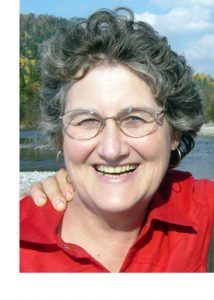 Surrounded by her loving family at home in Belle Vallee, Ontario, Mary Mildred Sadler was welcomed into the arms of her beloved Saviour Jesus Christ, after a courageous battle with ALS (Amyotrophic lateral sclerosis, commonly known as Lou Gehrig's disease ) on Sunday, February 22nd,  2009.
In 1941, Mary was born to the late Charles and Mildred Nicholson in Marmora, Ontario.  She enjoyed the water and spent many summers lifeguarding and instructing.  Mary was the youngest child of 5 and adored by all.  She studied at the University of Ottawa and earned a degree in Nursing.  Mary met her life-long partner and soul-mate, Terry Sadler in Cobalt, Ontario.  They married in 1963 and together they raised their 7 children with lots of love and laughter.  Mary had many happy memories living in the communities and cities of New Liskeard, Haileybury, Windsor, Brockville, Wawa, North Bay and retiring in Belle Vallee.
Mary was deeply dedicated to the Roman Catholic faith, Catholic Women's League and a Eucharistic Minister.  She touched many people's hearts with her kind words and her beautiful smile.
In October of 2008, Mary was diagnosed with Bulbar ALS.  This type of ALS affects the speech, throat and respiratory system first.  Mary lost her voice and the ability to swallow, but she continued to fight the disease.  In late January Mary was admitted to the hospital with pneumonia.  After tremendous willpower and faith, Mary survived the pneumonia and went home to spend the last weeks of her life.
Peacefully with her devoted husband and children surrounding her with their love and prayers, Mary was carried into the hands of God.
Mary will be sadly missed by her loving husband Terry and her children:  Anne (Gerry) McCrank, Kelly (Andrew) McKenzie, Tina (Chris) Annan, Robyn (Shawn) Dewar, Tracy (Trevor) Laing, Tonya Sadler and Shawn (Lea) Sadler.
Mary was admired and cherished by her 19 grandchildren; Dustin, Courtney, Kendell, Mitchell, Brittany, Cameron, Ellie, Alana. Travis, Katie, Avery, D''Aundra, Aurora, Mackenzie, Talus, Aiden, Quinn, Patrick and Grear. ("We love you Nana")
Mary will be remembered and missed by her sister Paula (the late Joe) McCavoy and her brothers Edward (Joan) Nicholson, the late Peter (Beryl) Nicholson and Marty (Irene) Nicholson.  Forever in the hearts of her many nieces and nephews and deeply missed by all.
The Sadler family would like to extend their heartfelt gratitude to the wonderful medical staff for their caring and respectful support that was offered to Mary during the final weeks of her life.
Visitation will be at the Perrin Funeral Home in New Liskeard, Ontario, on Wednesday, February 25th, 2009, from 7:00 p.m. – 9:00 p.m.  A Celebration of Mary's life will be held on Thursday, February 26th, 2009, at Paroisse Notre-Dame-De-Bon-Secours in Belle Vallee, Ontario.
Donations to ALS Society would be appreciated by the family.
Soft loving eyes
Caressed our growing souls
Standing strong in faith and hope
Your guidance we did find
Home to Him you have returned
Our lives touched by Truth
A legacy of love for you
For you, a souls rebirth
We love you Mom.
Written by Shawn Sadler