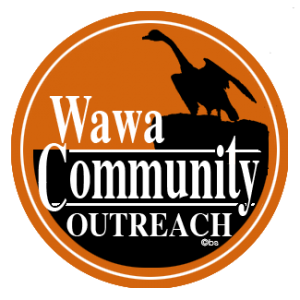 The Wawa Community Outreach Group is a collaborative local team of care providers, serving Wawa and area.  We are currently seeking a motivated and organized Community Outreach Coordinator.
The Wawa Community Outreach Program Project Coordinator's role is to provide support to those in need in their homes during the Covid-19 pandemic.
The Community Outreach Coordinator will prepare comprehensive action plans, including resources, timeframes, evaluation methods, metrics, and budget for the project.  The Project Coordinator will perform various coordinating tasks, like scheduling and administrative duties, and maintaining project documentation.
The goal is to ensure our residents have access to the social programs they require.  At the end of the term, there shall be a report that indicates what services are available, what services are required and where there are gaps verifiable through data collection.
Working with a community collaborative the Community Outreach Coordinator will be responsible for:
understanding the various medical and social supports within our community
provide promotional material to the community to encourage individuals to contact the assessor
direct individuals to the appropriate programs
Maintain data on the need verses the availability.
Job Status:  Short-term 6-month contract position with the possibility of extension
BASIC JOB REQUIREMENTS:
The task requires strict adherence to a code of confidentiality
Clear Criminal Record
Current Ontario Driver's License and use of own vehicle
EXPERIENCE:
Proven work experience as a Project Coordinator or similar role
Experience in project management, from conception to delivery
An ability to prepare and interpret flowcharts, schedules and step-by-step action plans
Solid organizational skills, including multitasking and time-management
Strong client-facing and teamwork skills
Demonstrated ability to work in a team environment with excellent interpersonal and leadership skills
Demonstrated excellent communication skills both written and verbal
Demonstrated presentation skills
Demonstrated ability to work autonomously as well as in a team environment
Demonstrated creative problem solving skills
Knowledge and experience with Microsoft Word, Excel, Outlook, PowerPoint, Publisher and Windows environment required.
Experience in working in a social/medical services environment
Fluency in English and French would be an asset
RESPONSIBILITIES:
Development of the Community Outreach Program including scope, timelines, costs, quality, communication, deliverables, metrics, stakeholders, evaluation and sustainment.
Coordinate project management activities, resources, equipment and information
Liaise with team and stakeholders to identify and define requirements, scope and objectives
Make sure that goals are met as the project evolves
Help oversee, prepare, and adhere to a budget
Analyze risks and opportunities
Monitor project progress and handle any issues that arise
Act as the point of contact and communicate the project status to all participants
Use tools to monitor working hours, plans and expenditures
Use tools to evaluate the project to ensure targeted goals and deadlines are met
Help prepare all appropriate documentation (eg. Client consent forms)
Create and maintain comprehensive project documentation, plans and reports
OTHER
Must be highly motivated and be willing to work alone
Maintain and accept responsibility for own learning needs and professional self-growth
Ensure safe, ethical and high quality services
Operate in compliance with related legislation
Accept any other duties as may be required
CONTRACT EMPLOYEE MUST:
Work in compliance with regulations i.e. federal and/or provincially-developed public health regulations
Adhere to infection control guidelines
Qualified applicants are invited to submit a cover letter and resume with three work related references, by mail, or email no later than 5:00 pm on Friday, November 13, 2020 to:
Wawa Community Outreach Program
Silvana Dereski
P.O. Box 1218
Wawa, ON P0S 1K0
Email: [email protected]
We thank all applicants for their interest, however only those selected for an interview will be contacted.