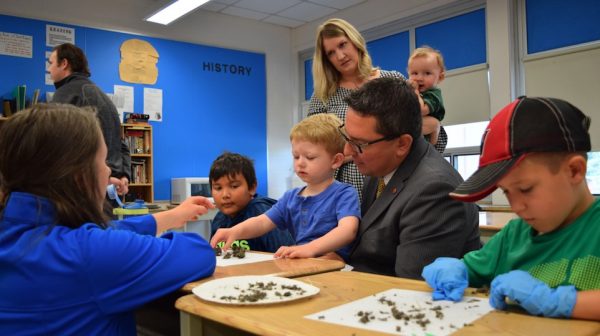 Patty Hajdu, MP for Thunder Bay- Superior North, and Don Rusnak, MP for Thunder Bay – Rainy River, visited with youth who are participating in four of Science North's summer science camp programs in Thunder Bay. For over 30 years, Northern Ontario children have benefited from Science North's summer science camp experiences. During this time, Science North has expanded the reach of its summer science camps, now offered across 36 Northern communities. These camps are designed to spark an interest in science with a unique blend of hands-on and engaging activities.
Since 1987, Science North has reached 40,000 Northern Ontario children ages 4-13 through the delivery of week-long summer science camp programs. Last summer, Science North reached the highest number of children and communities ever and this summer that number will grow again with an anticipated 3,200 campers across the North. This year, this program offered by Science North in Thunder Bay will see its highest attendance yet, reaching 340 children during 9 weeks of summer science camps. With an increased number of camps being offered, Science North has been able to provide six youth in Thunder Bay with summer employment.
Science North has a mandate to serve the North and is truly Northern Ontario's science centre. The organization's new 2018-23 strategic plan outlines key goals and actions through its priority of Science North in ALL of Northern Ontario, which will enable Science North to continue expanding its presence and service to the North. This includes summer science camps and outreach programs to teachers, students and the public. As well as expanding and deepening engagement with Indigenous audiences, partnerships in communities and at attractions to deliver science experiences.
These programs include an annual science festival in Thunder Bay and partnerships with local attractions to offer engaging science interactions, such as the Northern Nature Trading exhibit at the Thunder Bay Public Library. With a vision to be the leader among science centres in providing inspirational, educational and entertaining science experiences, Science North's outreach programs across the North will ensure the organization is in a position to achieve its vision.
"By giving our youth access to science, the possibilities are endless for what the next generation of Northern Ontario can achieve. Science North fosters that sense of curiosity and exploration that we need in order for our country to keep innovating, growing and learning." – Hon. Patty Hajdu, Member of Parliament for Thunder Bay-Superior North and Minister of Employment, Workforce Development and Labour
"It was a pleasure to meet with some of the students who will be participating in Science North's summer science camp programs in Thunder Bay today. Science North`s contributions to science education in Northern Ontario has been invaluable to teachers, students and families in our region, and I'm glad that they will be reaching even more students across Northern Ontario this summer. Giving young people an opportunity to experience science through hands on activities and experiments is a fantastic way to help build and inspire the next generation of scientists, and I have no doubt that all of the participants will benefit greatly from this experience." – Don Rusnak – Member of Parliament for Thunder Bay – Rainy River
"The delivery of summer camps is important in expanding our program in communities throughout Northern Ontario and allowing Science North to fulfill its mandate of serving the North. They have been a key part of expanding our reach and inspiring future generations to have an appreciation and interest in science." – Guy Labine, Science North CEO
About Science North
Science North is Northern Ontario's most popular tourist attraction and an educational resource operating the second- and eighth-largest science centres in Canada. Science North's attractions include a science centre, IMAX® theatre, planetarium, butterfly gallery, special exhibits hall, and Dynamic Earth: Home of the Big Nickel. Science North also oversees an award-winning International Sales unit, which develops custom and ready-made exhibits and multimedia experiences for sale to science centres, museums, and other cultural institutions all over the world. Science North, in partnership with Laurentian University, offers North America's first and only comprehensive Science Communication program, a joint Master's and Diploma program. As part of its mandate, Science North provides science experiences throughout Northern Ontario including outreach to schools and festivals, summer science camps and more, and has a permanent base in Thunder Bay providing outreach to the Northwest. Science North is an agency of the Government of Ontario. For more information please visit sciencenorth.ca.
Latest posts by This Media Release (see all)