UPDATE
Nov 1, 2017 @ 15:23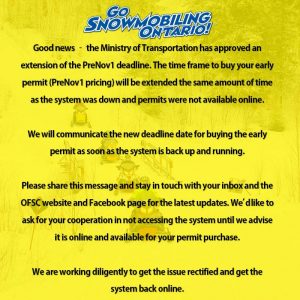 The OFSC is continuing to work on their online permit purchase system.
"Good news – the Ministry of Transportation has approved an extension of the PreNov1 deadline. The time frame to buy your early permit (PreNov1) will be extended to the same amount of time as the system was down and permits were not available online.
We will communicate the new deadline date for buying the early permit as soon as the system is back up and running.
Please share this message and stay in touch with your inbox and the OFSC website and Facebook page for the latest updates. We'd like to ask for your cooperation in not accessing the system until we advise it is online and available for your permit purchase.
We are working diligently to get the issue rectified and get the system back online."
Another admin post on facebook. "We will be correcting any incorrect or duplicate charges as soon as possible, once the system is back online and available for permits. If you've ordered your permit, we see no reason at the present time to suggest that a re-order will be necessary.
Due to high call and email volumes, we are not able to respond to these individual inquiries until such a time as the system is running smoothly. Thank you for your patience and understanding."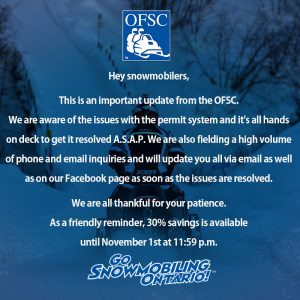 Nov 1, 2017 @ 09:23
At this time the OFSC online permit purchase site is not working.
The OFSC changed the trail permit purchase system. Instead of buying your trail permit locally, at your favourite snowmobile dealership – you have to purchase them from the OFSC website.
Tonight at midnight is the deadline to purchase this winter's trail permit at a 30% discounted rate. Some customers have been able to complete their purchase of their trail permit.
However, their facebook page is full of complaints from angry customers who have tried and have not been able to purchase,  are not sure if they have purchased their trail permit, or have been billed twice.
OFSC has posted on their website and on their facebook page that they are aware of the problem and that they are working to have it resolved immediately.
It may be prudent if you are trying to purchase your permit and have been unsuccessful to keep your documentation of your attempts.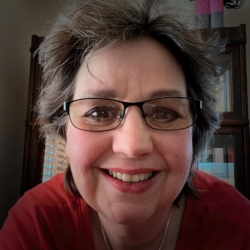 Latest posts by Brenda Stockton
(see all)