Jul 26, 2017 @ 09:24
The Michipicoten Memorial Community Centre was turned into an impromptu campground Sunday night with the arrival of many vintage cars, trucks, buses and campers.
Nearly a month ago, on June 29th, these vehicles left Victoria headed to the mainland via ferry on the first stage of their trip across Canada. In 1967, the first Canadian Coasters made the voyage across Canada to celebrate the 100th anniversary of Confederation. Nine cars did the whole trip! On their way across, they were hosted by car clubs in the area – and some joined and participated for a time. There were 116 other participants, and this tour was the spark to create a Canadian Chartered Organization.
This year, rally leader Fraser Field and his wife, Dorothy have spent the last five years organizing this year's Canadian Coasters Coast-to-Coast Tour. A special trip this year, it marks the 50th anniversary of the first trans-continental vintage vehicle tour; and commemorates 150th anniversary of Confederation. Some of the participants on this year's tour were on the original tour in 1967 as children.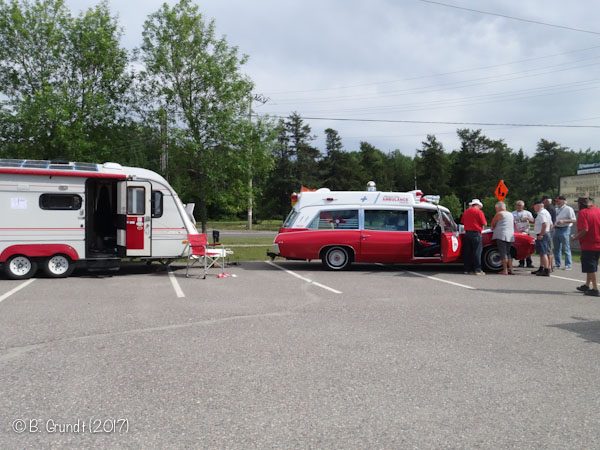 The group will travel nearly 8,000 kilometres and spend 70 some days across Canada taking in many of the special Canada150 celebrations along the way. Most of the cars are at least 30 years old with some older than that. The leader of the tour, Fraser drove a 1969 Pontiac ambulance across Canada in 2000, and in 2010. This year he is driving a 1948 Chevy one-ton ambulance/rescue vehicle.
After their night's stay in Wawa, they headed to Manitoulin Island and the ferry. They have prebooked two sailings. The first sailing is for even numbered participants, and the second for the odds.
These tours are planned every 10 years, so Wawa will once again be a stop in 2027!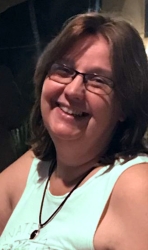 Latest posts by Brenda Stockton
(see all)