May 3, 2017 @ 13:51
The Conseil scolaire catholique du Nouvel-Ontario (CSCNO) is proud to announce the election of two new student trustees for the 2017-2018 school year.
For the Algoma and Manitoulin Districts, Emily Fox, a grade 11 student at École secondaire catholique Jeunesse-Nord (Blind River), will succeed Megan Spooner. As for the Sudbury District, Simon Paquette, a grade 11 student at Collège Notre-Dame (Sudbury), will follow in France Courtemanche's footsteps. Emily and Simon will begin their new one-year mandate on August 1, 2017.
"We congratulate all the candidates who submitted their candidacy as well as those who participated in the selection committee," states Mr. André Bidal, President of the CSCNO. "Our two student trustees hold an important role in the promotion of French Catholic Education and are a veritable asset to our Board in sharing student concerns."
"I have full confidence that Emily and Simon will fulfill their duties as student representatives for the Board as well as the Board's Student Senate," adds Mrs. Lyse-Anne Papineau, Director of Education for the CSCNO. "We are proud of the fact that our students recognize the importance of this role as well as the incredible opportunity it offers them in developing their Catholic and Francophone leadership in their own school and their community."
The Conseil scolaire catholique du Nouvel-Ontario offers a French Catholic Educational Program that is widely recognized for its excellence. The CSCNO provides a quality learning environment and academic program that runs from early childhood to adult education, with some 7,000 students in 27 elementary and 10 secondary schools.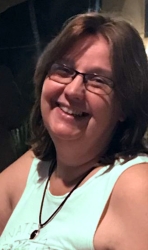 Latest posts by Brenda Stockton
(see all)