The Lady Dunn Health Centre held a ribbon cutting ceremony and grand opening of the new Palliative Care Suite. The Suite is a beautiful pair of rooms featuring a mini-livingroom/dining room/kitchen with loveseats that open into beds. The patient's bed looks very comfortable, and looks much like a beautiful bedroom at home.  When using the suite families can enjoy tv, a meal, the electric fireplace, as well as the use of the bathroom facilities. The doors close to the halls so that the family can enjoy privacy and family moments without fear of disturbing other patients in the hospital.
Palliative Care is medical care for people with a serious illness, focussing on providing relief from the symptoms and stress of the illness. The goal is to improve the quality of life for both the patient and the family, to help them live with comfort and dignity. For more information contact your family physician or Louise Needham, Palliative Care Co-ordinator.
After the ribbon cutting, everyone was welcomed to tour the Suite, tour guides had been organized so that small groups could walk through and have all the amenities that this special space offers. Then there was an opportunity to enjoy some small snacks, punch and a piece of the celebratory cake.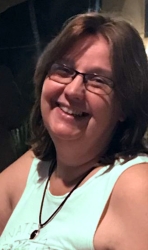 Latest posts by Brenda Stockton
(see all)