Feb 21, 2017 @ 21:03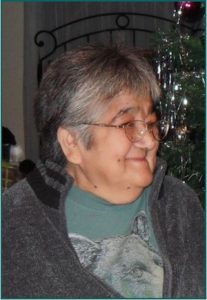 Passed away peacefully at the Sault Ste Marie Area Hospital on Sunday, February 19th, 2017 in her 71st year.  Survived by her loving husband Peter Miller. Lovingly remembered by sons and daughters; Anna Jr. (Rob), Micheal (Serena), Rachel (Jason), Christine, Elizabeth (Marcel), Peter Jr. and Roxanne.  Predeceased by her son Walter. Grandmother of 30, and great Grandmother to 8 great-grandchildren.  Predeceased by 1 great grandchild. Sister of Eva Sinclair. Predeceased by Maria, Dave, Martha, Don. Daughter of the late Adeline and Allen Taylor. Aunt to many nieces and nephews.
The family would like to thank the neighbours of Anna and Peter Miller, Clifford Waboose – Fire Keeper, Willard Pine – Elder, Garden River First Nation, Matachewan First Nation, and to family and friends for their prayers and support.
Family and friends may call at O'Sullivan Funeral Home and Cremation Centre (corner of Cathcart and St. James St.) on Wednesday, February 22, 2017, from 4:00 pm to 9:00 pm for the first viewing.  Thursday, February 23, 2017 from 10:00 am to 12:00 pm for the second viewing, followed by the Funeral Ceremony at 12:30 pm.
Arrangements entrusted to O'Sullivan Funeral Home and Cremation Centre, expressions of sympathy and condolences available on-line at; www.osullivanfuneralhome.com.