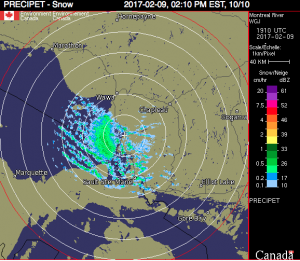 At 3:44 Hwy 17 was reopened.
At 2:13 p.m. OPP issued a press release stating that Highway 17 was closed from Wawa to Batchawana Bay (Hwy 563) due to deteriorating weather conditions. There is no estimated time of opening. Motorists can take Hwy 101 (Chapleau), and Hwy 129 (Thessalon) to rejoin Hwy 17 east of Sault Ste. Marie.
At 1:30 p.m. Environment Canada issued the following weather advisory for St. Joseph Island to Montreal River Harbour.
"LAKE EFFECT SNOW IS IMPACTING AREAS SOUTH OF MONTREAL RIVER TOWARDS  SAULT STE. MARIE. POOR TRAVEL CONDITIONS ARE EXPECTED TO CONTINUE THIS AFTERNOON AND EVENING. SNOW ACCUMULATIONS OF 10 TO 15 CM ARE LIKELY ALONG WITH VERY POOR VISIBILITY IN BLOWING SNOW. 
ALTHOUGH CONDITIONS ARE EXPECTED TO IMPROVE LATER TONIGHT, SNOW ASSOCIATED WITH AN ALBERTA CLIPPER IS EXPECTED TO MOVE INTO THE AREA FRIDAY MORNING WITH ADDITIONAL ACCUMULATIONS."
2:08 p.m. – Highway 17 is closed at Pinewood Drive preventing travel to Sault Ste. Marie. The OPP are currently preventing any travel southbound. There has not been any press release yet to confirm why the highway is closed, and where the other end is.
There is no confirming information available on twitter or Ontario511, but OPP are preventing any travel south.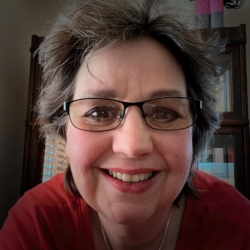 Latest posts by Brenda Stockton
(see all)