Oct 3, 2012 @ 07:48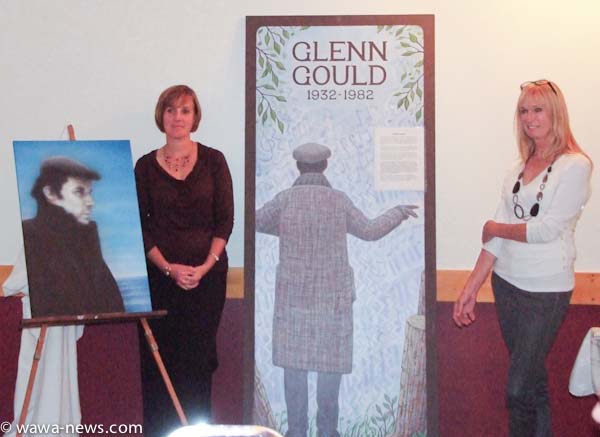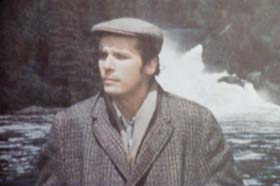 On Saturday evening, Johanna Rowe and Toni Rutland, assisted by Mayor Linda Nowicki unveiled the lastest Heritage Door. Another beautiful door, painted by Heather Sinnot; this one features Canada's most famous pianist, Glenn Gould. Why a Heritage Door? Glenn Gould? Glenn began to play piano at the age of three, reading music before he could read. At the age of 10, he began to study at the Toronto Conservatory, passing his final exam at the age of 12 with the highest marks, and achieving "professional standing as a pianist".
He didn't stop there… His first public performance was at the age of 23, two years later touring the Soviet Union, the first North American to play there since World War II. A mere 19 years later, he stopped performing in public and began to concentrate on studio recordings and other projects.
Gould was also known as a writer, composer, conductor, and broadcaster. He was a prolific contributor to musical journals, in which he discussed music theory and outlined his musical philosophy.
But that's not why there is a Heritage Door in Wawa – there is a Heritage Door because Glenn came to Wawa a number of times.
This was as Glenn said, "an extraordinary place". This was where he said he did some of the best writing in his life, and this was a therapy that he needed. Appropos to this unveiling, it was held in the very place he stayed when he visited, the Wawa Motor Inn.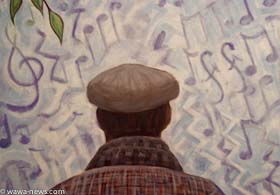 Johanna and Toni did an amazing amount of research, contacting the Glenn Gould Foundation, and even touring the CBC offices in Toronto to glean every bit of information they could about Glenn's visits to Wawa.
As this year would have been Glen's 50th birthday (September 25th) and the 30 year since his passing (October 4th) the timing of this unveiling was perfect. Johanna and Toni and their new business Soul of Superior Tours planned a special Glenn Gould 2012 Anniversary Tour.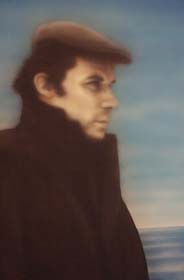 Unfortunately, they didn't have the success that they had hoped for on this inaugural tour – they did attract Junichi Miyazawa, a professor, author and music critic who teaches a course in Canadian cultural studies at the Aoyma Gakuin University in Tokyo, Japan. Junichi has organized a number of Glenn Gould seminars and concert presentations, and the premiere of the short film, "A Day, A Dog", featuring a new musical collaboration amongst Glenn Gould, Ryuichi Sakamoto and Emiri Miyamoto for presentation November 6th, 2012 at the Canadian Embassy in Toyko.
Another highlight to the evening was the unveiling of a beautiful portrait of Glenn Gould, painted by Adam Robert Martin. This painting was purchased by "Soul of Superior Tours" – Johanna and Toni, so it could remain in Wawa.
The Glenn Gould Heritage Door will be displayed at one of Glenn's favorite spots, Magpie High Falls. If you haven't watched this youtube video, watch, and perhaps the next time you wander and look at the falls, you might hear a little Beethoven amidst the water.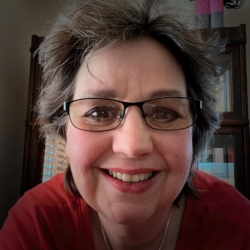 Latest posts by Brenda Stockton
(see all)